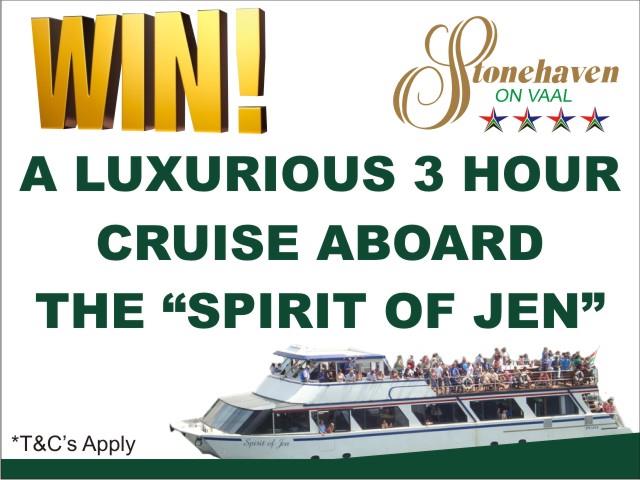 WIN with Stonehaven on Vaal
Competition Ends: Fri, 30 Sep 2016
Stonehaven on Vaal is a Four Star, 10 acre river and Garden Estate right on the banks of the Vaal River with a very special charm.
It is positioned just outside the town of Vanderbijlpark and is very easy to find and well positioned off the N1 highway.
Stonehaven has a fleet of cruisers including Gauteng and the Free State's largest and most luxurious Cruiser – The Spirit of Jen, which takes up to 200 people. It is ideally designed to provide a wedding with a distinct difference – a wedding that guests will be talking about for a long time.
The Cruisers can also be used for Year End Functions, Family Events and High Profile Conferences.
Full dining can be enjoyed on board. Two of the larger vessels have jacuzzi's on their top decks.
The stretch of river where Stonehaven on Vaal is located – is referred to as Millionaire's Mile. It boasts magnificent Gentlemen's Estates, so it is a very entertaining cruise. This stretch of river has the highest valued properties of all inland water properties in the whole of South Africa.
Stonehaven on Vaal is perfectly positioned to host Year End Functions with a distinct difference including:
Boat Cruises aboard a fleet of luxurious Vessels, capacities from 4 - 200 guests with full dining onboard.
Welcome Cruise, pre-lunch or sunset cruise and then spend the rest of your time in one of the lovely land venues.
Sushi Making (and eating) - R 198.90 p/p
Potjie Cook-Off competitions (and eating) - R118.00 p/p
Fishing Charter (3-hour) including rods and accessories, trainer and refreshments - R553.65 p/p
Chocolate and Wine pairing - R105.00 p/p Compére (Optional) - R310.00
Craft Beer and Beer tasting - R35.00 p/p
Cocktail making... and drinking! - R55.00 p/p
Two Course Meal - R95.50 p/p - Three Course Meal R125.00 p/p
Birding Charter (3-hour) down the Vaal and tributaries including refreshments - R358.00 p/p
High Tea and Hat Party - R160.00 p/p
Three Course Braai or Mongolian Braai around the pool or on the river banks - R195.00 p/p
2-hour Cruising Buffet Breakfast - R215.00 p/p (Mondays - Thursdays)
Cocktail Snacks on the banks of the River - Day, Sunset or by Star Light - R92.00 p/p
Breakfasts in the garden - R63.45 p/p
Brunches on the river in the fresh morning air - R 169.20 p/p
Three Course Buffet - R190.00 p/p
Three Course Spit Braai's .... Scrumptious! - R298.00 p/p
Picnics on lovely picnic blankets and cushions on the banks of the river - R199.70 p/p
Three Course Buffet - R194.70 p/p and other Buffets available, including Smorgasbord.
Large a la carte menu for small groups from R78.90 p/p upwards.
Fondue (cheese, meat and/or chocolate) from R76.50 p/p
Private Venues if you wish, different in size from 2 - 600 from R1980.00 Upwards.
All of the above include personalised welcome/directional signs and personalised menus on the tables. You are welcome to provide us with photos or logos for inclusion.
Contact us on: (016) 982 2951/2 Email: info@stonehaven.co.za Web: www.stonehaven.co.za
GPS co-ordinates: S 26° 44min 53.8sec / E 27° 49min 32.0sec
You can win a 3-hour Cruise aboard Stonehaven on Vaal's largest Cruiser – the Spirit of Jen, which can take up to 200 guests. This can be used for any occasions- your Year End Function, Family Celebration or Wedding. (Excludes food and beverages). Just answer the easy question below to stand in line to win this prize.
*T&C Apply
Please note: No more than 5 entries per person allowed.