On 8 May 2021, The Real Good Weekend, featuring the Central SA Top 30 with Sam Ludidi, was live from the Entrepreneurial Matriculant of the Year Competition Award Ceremony.
The ceremony commenced with presentations by the 16 finalists and the winners were announced at a gala dinner the same evening.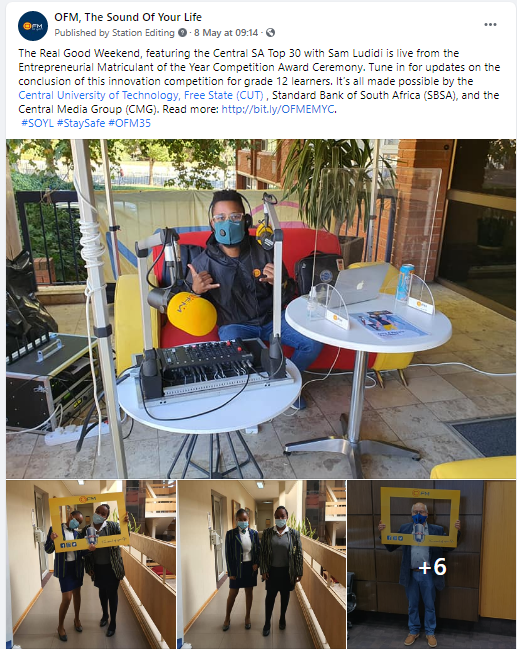 In 2020, the Central University of Technology, Free State (CUT), Standard Bank of South Africa (SBSA), and the Central Media Group (CMG) called on young aspiring entrepreneurs from the Free State and Northern Cape to enter the Entrepreneurial Matriculant of the Year Competition.
To enter for a chance to win a share of R60 000, grade 11 learners had to submit business proposals.
By the closing date of receiving entries for the Entrepreneurial Matriculant of the Year Competition, 68 applications had been received from 68 learners. These learners were required to submit a short business plan of their idea or real business. This process culminated in the selection of 16 learners, who would take part in the final stage of the competition.
From 6 to 27 March 2021, the finalists received training on all aspects of starting and running a business. They learned how to identify their target markets, how to manage a small business, managing operational aspects, doing administration, project management, as well as financial calculations to draw up an income statement and a cash flow statement from CUT. The purpose of the training was to give them not only some important theoretical skills but also some practical business skills, ideas and strategies to manage a sustainable business. The sessions were conducted virtually via Zoom.
Subsequently, the 16 finalists were supported through a process of developing and making pre-presentations from 29 March to 1 April late afternoons after all their other school activities were done. The purpose of this exercise was to refine the business plans and prepare the finalists for presenting their ideas to the competition adjudicators.
On the 8th of May 2021, the finalists competed for the top five spots at a ceremony held at CUT. The five finalists bagged cash prizes between R5 000 and R20 000.
The Entrepreneurial Matriculant of the Year Competition (EMYC) is an annual contest hosted for grade 12 learners. The competition allows learners to attempt to conceive and describe a business idea, in order to enhance entrepreneurial skills among learners. This exercise encourages self-learning and instils basic research.