OFM's 100 hottest songs since 1986
09:43 (GMT+2) Fri, 16 Jul 2021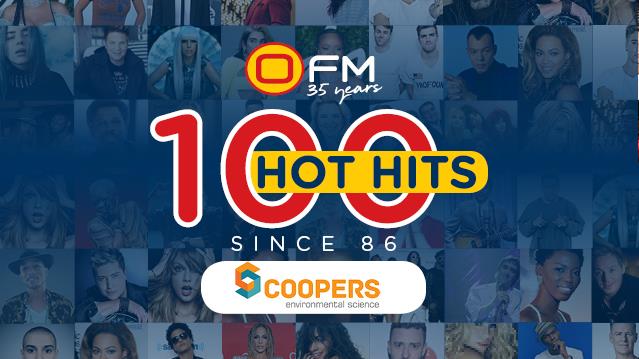 Venue:
OFM
Celebrate OFM's birthday month by cranking up the volume and letting the musical memories come flooding back this Friday, 23 July. OFM will be playing 100 of the top songs from the past three decades… So, be sure to tune in from 08:00 to 18:00 for OFM's 100 Hot Hits since 86!
Proudly made possible by Coopers Environmental Science – your answer to winter pests. Ask for Coopers at your nearest leading hardware store or co-op, or visit the experts in pest control at www.cooperses.com.
Coopers Environmental Science. Control, balance, protect!
| | |
| --- | --- |
| | Song |
| 1 | Spice Girls - Wannabe |
| 2 | Lady Gaga - Poker Face |
| 3 | Kurt Darren - Meisie Meisie |
| 4 | Justin Bieber - Sorry |
| 5 | Usher - Yeah |
| 6 | Guns 'n' Roses - Sweet Child of Mine |
| 7 | Rihanna ft. Calvin Harris - We Found Love |
| 8 | Dr Victor & The Rasta Rebels - I Love To Truck |
| 9 | Daft Punk - One More Time |
| 10 | Brenda Fassie - Weekend Special |
| 11 | Black-Eyed Peas - Where Is the Love |
| 12 | Eden - 54 5de Straat |
| 13 | Adele - Hello |
| 14 | Brandy & Monica - The Boy Is Mine |
| 15 | Akon - Lonely |
| 16 | Vicky Sampson - African Dream |
| 17 | James Blunt - You're Beautiful |
| 18 | Sinead O'Connor - Nothing Compares 2U |
| 19 | Michael Jackson - Remember The Time |
| 20 | Prime Circle - She Always Gets What She Wants |
| 21 | Taylor Swift - You Belong With Me |
| 22 | Richard van der Westhuizen & Gerhard Steyn - Ballade Vir 'n Enkeling |
| 23 | Celine Dion - My Heart Will Go On |
| 24 | Post Malone ft. Swae Lee - Sunflower |
| 25 | Just Jinger - Sugar Man |
| 26 | Snap - Rhythm Is A Dancer |
| 27 | Britney Spears - Baby One More Time |
| 28 | Blk Sonshine - Born In A Taxi |
| 29 | Kesha - Tik Tok |
| 30 | Mango Groove - Special Star |
| 31 | One Direction - What Makes You Beautiful |
| 32 | Ray Dylan - Jessica |
| 33 | Jennifer Lopez - If You Had My Love |
| 34 | Omi - Cheerleader |
| 35 | Robert Miles - Children |
| 36 | Pink ft Nate Ruess - Give Me A Reason |
| 37 | Elton John - Candle In The Wind |
| 38 | PJ Powers & Steve Kekana - Feel So Strong |
| 39 | Santana ft. The Product G&B - Maria Maria |
| 40 | Johnny Clegg - The Crossing |
| 41 | Dua Lipa - Don't Stop Now |
| 42 | Gerhard Steyn - Baby Tjoklits |
| 43 | Madonna - Like A Prayer |
| 44 | Wiz Khalifa ft. Charlie Puth - See You Again |
| 45 | Lady Gaga & Bradley Cooper - Shallow |
| 46 | Bright Blue - Weeping |
| 47 | TLC - Waterfalls |
| 48 | Will Smith - Men In Black |
| 49 | Psy - Gangnam Style |
| 50 | Vanilla Ice - Ice Ice Baby |
| 51 | Lil Nas X ft. Billy Ray Cyrus - Old Town Road |
| 52 | Elandré - Vuur Op Die Water |
| 53 | No Doubt - Don't Speak |
| 54 | Sia - Chandelier |
| 55 | UB40 - Can't Help Falling In Love |
| 56 | Luis Fonsi ft. Daddy Yankee & Justin Bieber - Despacito |
| 57 | Phil Collins - Groovy Kind of Love |
| 58 | Coleske - Take Me Where The Sun Is Shining |
| 59 | B.O.B ft. Hayley Williams - Airplanes |
| 60 | Malaika - Destiny |
| 61 | The Chainsmokers ft. Halsey - Closer |
| 62 | Nicholis Louw ft. Shine 4 - Net Die Een Vir My |
| 63 | Celine Dion - Because You Loved Me |
| 64 | Nelly & Kelly - Dilemma |
| 65 | Andre de Villiers - Memories |
| 66 | Lorde - Royals |
| 67 | Technotronic - Pump Up The Jam |
| 68 | MarcAlex - Quick Quick |
| 69 | Maroon 5 ft. Christina Aguilera - Moves Like Jagger |
| 70 | Sipho "Hotstix" Mabuse - Burn Out |
| 71 | The Weeknd - Blinding Lights |
| 72 | Rihanna - Umbrella |
| 73 | Ddisselblom - Nikotien & Kaffeïen |
| 74 | Savage Garden - Truly, Madly, Deeply |
| 75 | Katy Perry - Roar |
| 76 | Berlin - Take My Breath Away |
| 77 | Dr. Victor & The Rasta Rebels - Shambala |
| 78 | Roxette - The Look |
| 79 | Eiffel 65 - Blue (Da Ba Dee) |
| 80 | Mandoza - Nkalakatha |
| 81 | Ed Sheeran - Shape of You |
| 82 | Los Del Rio - Macarena |
| 83 | Juanita du Plessis - Ska-Rumba |
| 84 | Bon Jovi - It's My Life |
| 85 | Right Said Fred - I'm Too Sexy |
| 86 | Bill Medley & Jennifer Warnes - I've Had The Time of My Life |
| 87 | Lira - Feel Good |
| 88 | Madonna - Music |
| 89 | Londonbeat - I've Been Thinking About You |
| 90 | Master KG ft. Nomcebo Zikode - Jerusalema |
| 91 | Pharrell Williams - Happy |
| 92 | ABBA - Dancing Queen |
| 93 | Appel - F250 |
| 94 | Britney Spears - Oops! I Did It Again |
| 95 | Mi Casa - Heavenly Sent |
| 96 | Neil Diamond - Sweet Caroline |
| 97 | Camila Cabello - Havana |
| 98 | Billie Eilish - Bad Guy |
| 99 | MC Hammer - U Can't Touch This |
| 100 | JR ft. HHP - Show Dem (Make The Circle Bigger) |
Enjoying the playlist? Listen to the songs again on the YouTube channel below: