Kry jou eie OFM #BakkieArm

Bestuurders in sonnige Sentraal Suid-Afrika het dikwels die probleem dat een arm bruiner gebrand is as die ander. Benewens sonskerm, is daar ook 'n ander, meer blywende manier, om hierdie ongewensde oneweredigheid te voorkom.
En, die Good Morning Breakfast, weeksdae, 06:00 – 09:00, se jongste patent, die #BakkieArm, gaan nie net jou arm teen die son beskerm nie, OFM beoog ook om met die verkope hiervan fondse in te samel vir Agri Securitas, wat sedert 1991 toegewyd is aan die beskerming van landelike gemeenskappe. Een-honderd persent van die opbrengs sal aan Agri Securitas geskenk word.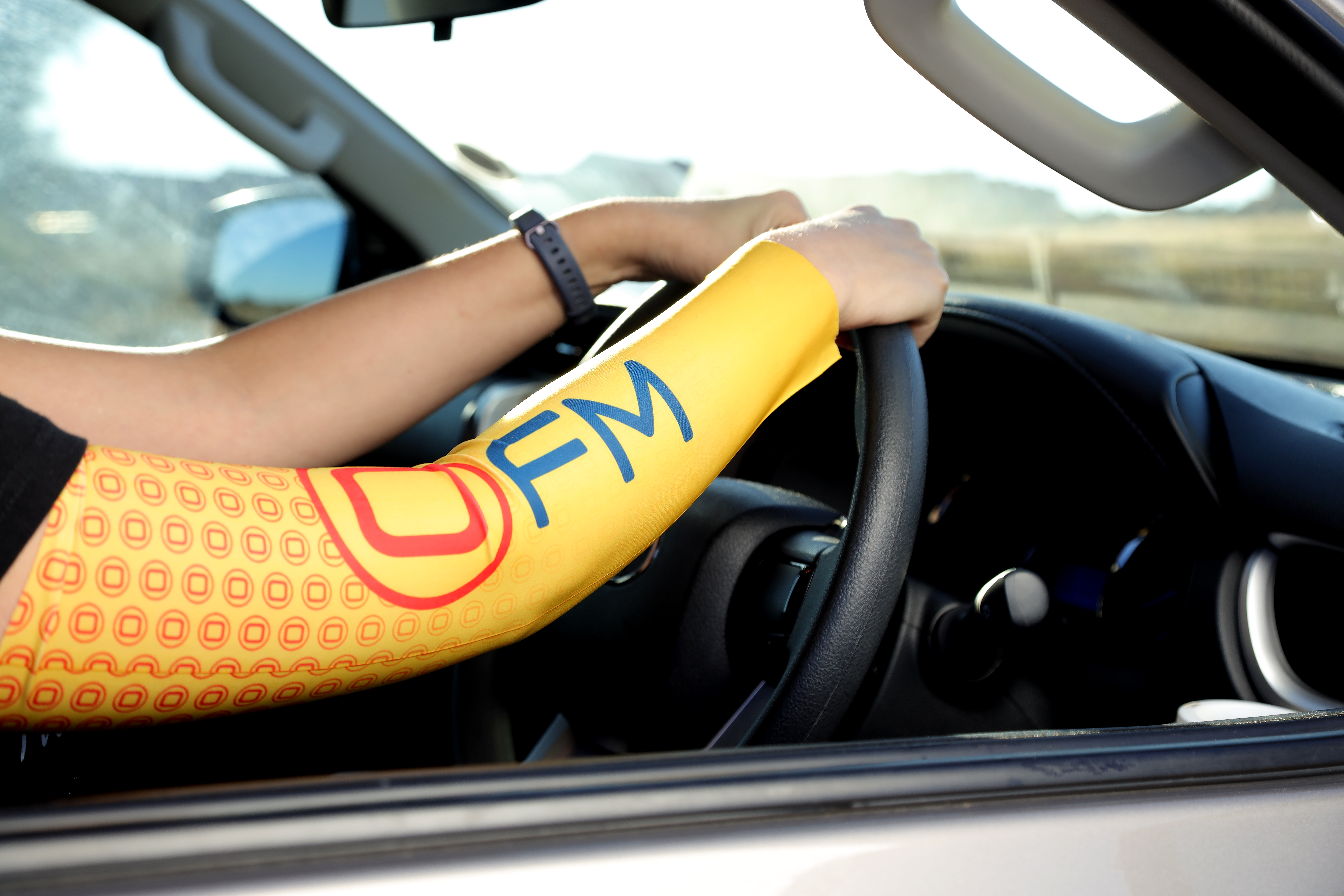 Die OFM #BakkieArm-mou (armbeskermer) is beskikbaar in drie groottes:
Klein - 370mm (lengte) x 70mm (omtrek gewrig), 83mm (omtrek elmboog)
Medium - 420mm (lengte) x 90mm (omtrek gewrig), 110mm (omtrek elmboog)
Groot - 450mm (lengte) x 105mm (omtrek gewrig), 120mm (omtrek elmboog) Bestel joune deur 'n minimum skenking van R100 per #BakkieArm te maak. Selekteer jou groottes en hoeveelhede in die velde, voeg ook jou naam, kontakbesonderhede en adres by (ons kan ongelukkig nie posbusse akkommodeer nie) waarna die pakkie versend moet word (of kies om dit by Central Media Park in Bloemfontein af te haal).
Jy sal dan 'n opsomming van jou aankope ontvang asook 'n verwysingsnommer en bankrekeningbesonderhede op die e-pos adres wat jy verskaf het.
Stuur jou bewys van betaling aan die volgende e-pos address bakkiearm@ofm.co.za om jou aankope te bevestig.
Let asseblief op dat beperkte hoeveelhede van die #BakkieArm tans beskikbaar is en dat aflewering tot ses weke mag duur.
Dankie vir jou ondersteuning!
*OFM sal slegs jou persoonlike inligting gebruik om die transaksie deur te voer en jou bestelling by jou uit te kry.
Laai die #BakkieArm liedjie deur SOYL (uitgespreek 'soil') hier onder af:
---
Get your very own OFM #BakkieArm
Drivers in sunny Central South Africa often have the problem that one arm is more tanned than the other. In addition to sunscreen, there is another, more lasting way to prevent this unwanted unevenness.
And, the Good Morning Breakfast, weekdays, 06:00 - 09:00,'s latest patent, the #BakkieArm, will not only protect your arm from the sun, but OFM also intends to sell it to raise funds for Agri Securitas, the organisation dedicated to protecting rural communities since 1991. One hundred percent of the proceeds will be donated to Agri Securitas.
The OFM # BakkieArm sleeve (arm protector) is available in three sizes:
Small - 370mm (length) x 70mm (circumference wrist), 83mm (circumference elbow)
Medium - 420mm (length) x 90mm (circumference wrist), 110mm (circumference elbow)
Large - 450mm (length) x 105mm (circumference wrist), 120mm (omtrek elmboog) Order yours by making a minimum donation of R100 per #BakkieArm. Select your sizes and quantities in the fields, and also add your name, contact details, and physical address (unfortunately we can't accommodate post boxes) to which your parcel must be sent (or choose to pick it up at Central Media Park in Bloemfontein).
You will then receive a summary of your purchase as well as a reference number and bank account details on the email address you provided in the fields.
Send your proof of payment to the following e-mail address - bakkiearm@ofm.co.za to confirm your purchase.
Please note that limited quantities of the #BakkieArm are currently available and that delivery may take up to six weeks.
Thank you for your support!
*OFM will only use your personal information to complete the transaction and deliver your order.
Details: