CentralSA
Vaal Dam gates opened - VIDEO
─── 18:33 Thu, 11 Feb 2021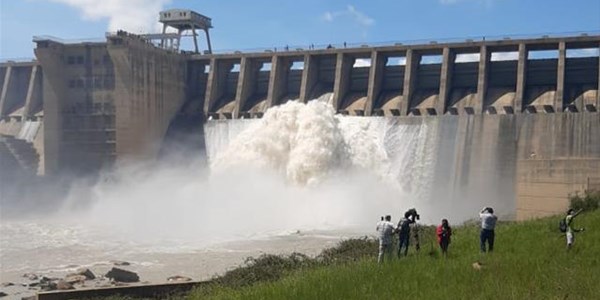 The Department of Water and Sanitation (DWS) released water from the Vaal Dam on Thursday morning to control water levels in the over-full dam.
The initial analysis indicated a need for the opening of three gates, but the possibility exists that it could be four.
Spokesperson for the department, Sputnik Ratau, says they have observed activities in the Mozambican Channel, which shows that more rainfall is expected to fill the dam.
"These flows and weather forecasts have necessitated the initiation of a flood control release from the Vaal.
"As the Vaal Dam has already breached the 100% mark to float at 103.5%, any further rapid inflows especially as current indications are concerned with regard to the developing system in the Mozambican Channel, with the likelihood of it delivering more rain in the Upper Vaal, have impressed upon the DWS hydrologists to relook at the management of the Vaal Dam in this way," says Ratau.
He says warnings have been issued to people who reside downstream.
"Between last night and this morning and continuing through the day, we will continue to issue warnings to people downstream of the dam.
Emfuleni Municipality has already started with those alerts and the national disaster management centre has already started informing the SAPS and other bodies within the centre that will assist us in informing communities," adds Ratau.
OFM News