CentralSA
CUT assists differently-abled students
─── 08:35 Fri, 23 Apr 2021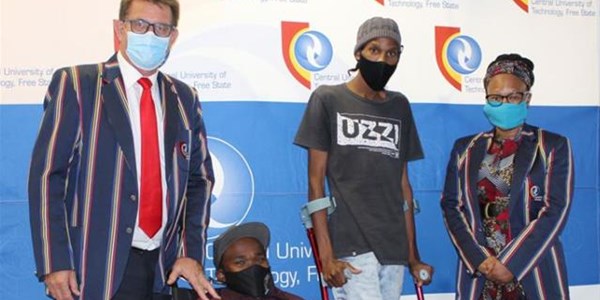 Differently-abled students from the Central University of Technology (CUT) have welcomed the assistance of the CUT's Unit Development, which handed them various pieces of equipment on Thursday to make their lives easier.
This comes after the Ackerman Family Education Trust donated an amount of about R50 000. Prof Henk de Jager, who is the Vice-Chancellor at the university, said students at CUT are a top priority. He further stated in the CUT news article that there are about 23 students who are differently-abled and were also assisted by the institution through other means. The CUT's Unit for Development gave out wheelchairs, crutches, including devices for students with vision and hearing disabilities.
"I love being mobile, I'm always out and about and this electric wheelchair is going to help me immensely," said Xoliswa Lubhelwa, who is a first-year IT student. Another student who received help was second-year HR student Tsholofelo Tiba, who was given new crutches as his old ones have worn out.
OFM News/Kekeletso Mosebetsi