CentralSA
Kopanong financial woes could exacerbate further
─── LUCKY NKUYANE 12:59 Thu, 14 Oct 2021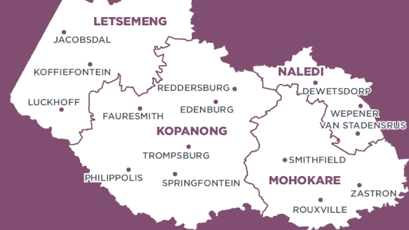 The Free State Municipal Workers Union (Samwu) says it has run out of words to literally describe the situation at the cash-strapped Trompsburg Kopanong Local Municipality, which has failed to pay its workers in 55 days.
This, as the municipality's financial woes are further deepening due to the frizzed account debacle. Samwu's provincial secretary, Tiisetso Mahlatsi, tells OFM News that rectifying the financial issues, which include the attached account, could take the municipality over a few months to resolve because the issue now involves litigation. Mahlatsi says the leadership of the municipality, including the provincial government, has failed to deal with issues of municipalities such as Kopanong, which owe their workers' pension fund a whopping R26 million, stemming from 2012.
"The municipality has only one account and they cannot access the funds until we have recouped all the outstanding amounts of the pension fund, even the amount of the equitable share that they are receiving per quarter won't settle the outstanding, and like I am saying, it's historical. The current management has inherited a historical burden and unfortunately, it's an institution - they have to carry on with it," he adds.
Mahlatsi says the situation at Kopanong is heart-breaking because even their members have been badly affected by the situation of non-payment for almost two months now.
Mahlatsi says this is a painful situation because one can imagine that workers have been working under stress and this would somehow exacerbate the level of stress amongst workers.
"The mere fact that when you are working and return to the location, and you happen to pass a person who has been working for the municipality for years who is on pension and struggling and unable to access his or her pension, it's heart-breaking," Mahlatsi further adds.
OFM News has previously reported that the municipal spokesperson, Solly Phama, confirmed to OFM News that it has Wednesday been more than 54 days since workers, including general workers and officials, have been paid in August 2021. He said this is a result of the attached municipal account due to the municipality's failure to pay workers' third-party contributions since 2012, which is currently R26 million in debt.
The Free State ANC's Interim Provincial Committee (IPC) has blamed the financial woes at the cash-strapped Trompsburg-based Kopanong Municipality for a lack of leadership.
IPC spokesperson, Oupa Khoabane, said both political and administrative leadership has failed to perform due diligence at the municipality.
Asked if heads should roll at the municipality, Khoabane said the ANC cannot micromanage issues of municipalities.
OFM News