Cricket
'For me there is nothing even remotely close to a choke' - Walter
─── MORGAN PIEK 08:07 Fri, 17 Nov 2023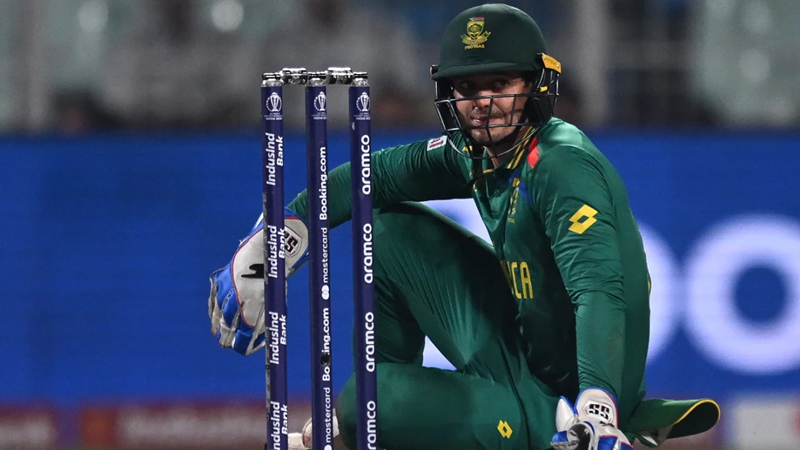 "For me, a choke is losing a game that you're in a position to win - in this instance, we were behind the eight-ball right from the word go and we actually fought our way back into the competition and put up a score that gave us a chance."
The Proteas coach, Rob Walter, has lauded his team following their heart-breaking exit from the 2023 ICC Cricket World Cup in India on Thursday night.
The Proteas were knocked out of the global showpiece following a 3-wicket defeat to Australia in Kolkata, for the third defeat in the semi-finals to the five-time World Champions.
There was a stage where South Africa could have won it, but ultimately, they were short on runs and the Australians reached the target with just 16 balls to spare.
Rob Walter said, while the choke label is being thrown around again, it certainly wasn't the case.
"I guess you need to define what a choke is," said Walter.
"For me, a choke is losing a game that you're in a position to win - in this instance, we were behind the eight-ball right from the word go and we actually fought our way back into the competition and put up a score that gave us a chance.
"They got off to a flyer with the bat, and we fought and we put ourselves back into the game - and of course we were 30-runs or 40-runs short but still having them seven down. Then there were a couple of things, balls bouncing just short, a little inside edge that could have been taken, you know, so for me there is nothing even remotely close to a choke that happened out there today.
"It's a serious contest between two good teams, number two and three in the tournament."
It's easy to forget that just a few months ago the Proteas were still on the brink of having to play in the qualifying tournament in Zimbabwe just to get to play at the World Cup.
A year ago following their dramatic exit from the T20 World Cup in Australia, one would never have imagined South Africa reaching the semi-finals.
The turnaround under the guidance of Walter and the leadership of Bavuma has led to series wins over the outgoing World Champions, England as well as against the very same Australia. And then to play as well as they did at the World Cup was something special.
This all since Walter took over the reigns as the coach in February. He has generated a culture the players enjoy and thrive in.
Walter added that he is tremendously proud of the team and their achievements, despite being eliminated from the World Cup.
"I can't reiterate enough how proud I am as the coach. We've played some cricket in this competition that has been world-leading, really, Walter added.
"There's broken records. We've seen young guys, at the end of the tournament, have less than 15 games to their name, stand up and really dominate in certain phases of the game for the team.
"Different people put their hands up throughout the competition and you can only do your best, like put everything on the line on the day.
"Today, I don't think anyone could watch and say it wasn't through lack of effort. I don't think anyone could say the guys didn't back themselves, they didn't back each other. We've spoken about that - we've just spoken about leaning on each other in the tough times and these games bring out those moments.
"But throughout the game you would see guys conversing with each other, throughout the game you'd see them coming together, strategizing, coming up with a plan and then just buying into it and leaving everything out there.
"So, potentially there weren't guys lying down there. I think if you went into the changing room now it'd be pretty quiet.
"The guys would obviously be gutted but as I said what can you do but do your best and leave everything on the park for your country? And I don't think anyone could question that today."
On Sunday at 10:30 India and Australia will contest the final in Ahmedabad.
Morgan Piek OFM Sport