General
OFM YOUTH DAY COMPETITION FREES SOMEONE'S FUTURE
─── 12:44 Mon, 29 Jun 2020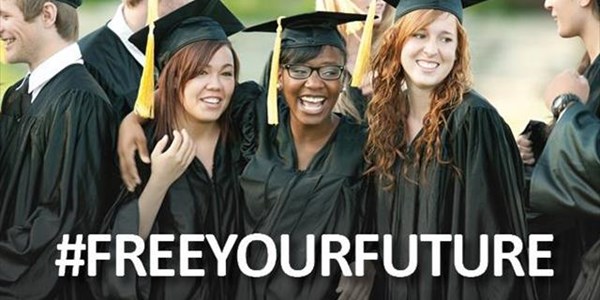 Bloemfontein – OFM, inspiring listeners to live the real good life in Central South Africa, has helped one young person to move forward with their future goals and aspirations thanks to the #FreeYourFuture competition.
The initiative was part of the station's Youth Day celebrations on the 16th of June.
Ayanda Makehma, a 22-year old Public Management and Governance student at the Central University of Technology, was the lucky recipient of financial assistance to help clear student debt stopping her from receiving her qualification.
Prior to studying Public Management and Governance, Ayanda did a Community Development Work (CDW) course, which also involved work integrated learning at a local hospice. Thanks to the #FreeYourFuture competition, Ayanda will now receive her CDW certificate, which will open many doors for her.
According to Lindiwe Mtwentula, OFM Marketing Manager, student debt is a huge obstacle preventing many students to move forward in life.
"A student cannot graduate until all outstanding accounts at the higher education institution have been settled. As a result, many students cannot graduate despite passing all their subjects and qualifying for the degree, because of crippling student debt. This is why we created the #FreeYourFuture competition – to help one person to finally graduate and embark on their career path."
This is the second year that the #FreeYourFuture competition took place. To be considered for financial assistance, persons between the ages of 18 and 35 had to e-mail their contact details, motivation, account, proof of enrollment and a copy of their ID's to the station.
For more info, please contact Lindiwe Mtwentula on 051 5050 900, 082 416 1665, or lindiwe@ofm.co.za.
---
OFM JEUGDAG-KOMPETISIE OPEN TOEKOMSDEURE VIR GELUKKIGE WENNER
Bloemfontein – OFM, die radiostasie in Sentraal Suid-Afrika wat luisteraars aanmoedig om voluit te leef, het een gelukkige jongmens gehelp om haar toekomsdoelwitte en wense 'n bietjie nader aan die werklikheid te bring, danksy die #FreeYourFuture-kompetisie. Die kompetisie was deel van die stasie se Jeugdag-vieringe op 16 Junie.
Ayanda Makehma, 'n 22-jarige Openbare Bestuur en Regering-student aan die Sentrale Universiteit vir Tegnologie is die gelukkige persoon wat finansiële ondersteuning sal ontvang om te help met studieskuld wat haar verhoed om haar kwalifikasie te verwerf.
Voordat Ayanda met haar Openbare Bestuur en Regeringsdiploma begin het, het sy 'n kursus in Gemeenskapsontwikkelingswerk (GOW) gedoen, wat ook praktiese leer by 'n plaaslike hospice ingesluit het. Danksy die #FreeYourFuture-kompetisie, kan Ayanda nou haar GOW-sertifikaat ontvang, wat baie deure vir haar sal oopmaak.
Volgens Lindiwe Mtwentula, OFM-bemarkingsbestuurder, is studenteskuld 'n groot hindernis vir baie studente, wat hulle verhoed om vooruit te gaan.
" 'n Student kan nie sy of haar graad ontvang totdat alle uitstaande skuld by die betrokke hoëronderwysinstelling gedelg is nie. Gevolglik is daar baie studente wat nooit gradueer nie, ten spyte daarvan dat hulle al hulle vakke deurgekom het. Dit is waarom ons die #FreeYourFuture-kompetisie van stapel gestuur het – om een persoon te help om uiteindelik hulle graad te kry en met hulle loopbaan te kan begin."
Hierdie is die tweede jaar dat die #FreeYourFuture-kompetisie aangebied is. Om in te skryf moes persone tussen die ouderdomme van 18 en 35 hulle kontakbesonderhede, motivering, studenterekening, bewys van registrasie en kopie van hulle identiteitsdokument na die stasie stuur.
Vir meer inligting, skakel asseblief vir Lindiwe Mtwentula by 051 5050 900, 082 416 1665 or lindiwe@ofm.co.za.