General
Nirvana sued over 1991 Nevermind album cover
─── 10:20 Thu, 26 Aug 2021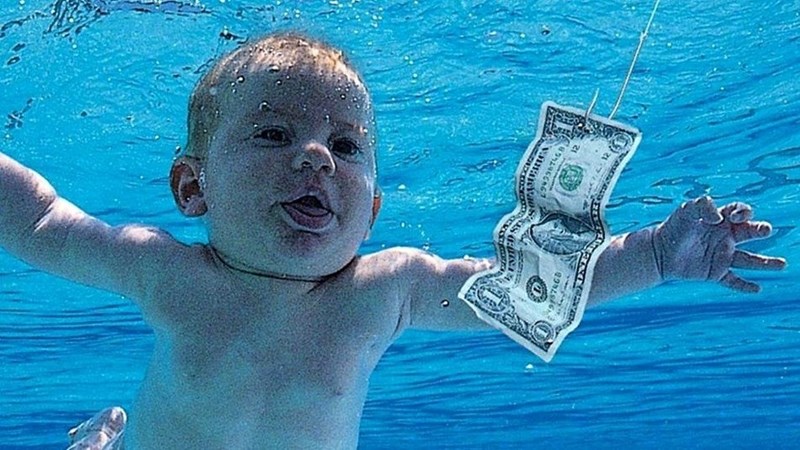 Thirty years on, the surviving band members are being sued by the man who featured on the cover as a baby - to this day one of the most famous album covers of all time.
Spencer Elden, who was photographed as a baby swimming naked underwater towards a dollar bill on a fishhook, says in a lawsuit that the image constitutes child pornography - non-sexualized nude images of babies are not usually classified as pornography under US law. The album cover picture is widely accepted as the band making a statement on capitalism.
Thirty-year-old Elden, 30, has recreated the image several times, including for Nevermind's 10th, 17th, 20th, and 25th anniversaries, and also has the album title tattooed on his chest. However, he has said in interviews over the years that he has mixed feelings about the picture.
Now, his lawyer Robert Y Lewis says the depiction of the baby reaching for the dollar bill makes Elden look "like a sex worker". The lawsuit also alleges that the band failed to uphold a promise to cover his exposed genitals with a sticker.
According to Wikipedia director Robert Fisher," found some stock footage of underwater births, but they were too graphic for the record company to use. Furthermore, the stock house that controlled the photo of a swimming baby that they chose wanted $7,500 a year for its use. Instead, Fisher sent a photographer, Kirk Weddle, to a pool for babies to take pictures. Five shots resulted and the band settled on the image of four-month-old Spencer Elden, the son of a friend of Weddle. Geffen was concerned that the infant's penis, visible in the photo, would cause offense, and prepared an alternate cover without it; they relented when Cobain said the only compromise he would accept would be a sticker covering the penis reading: "If you're offended by this, you must be a closet pedophile." The cover has since been recognised as one of the most famous album covers in popular music."
Sky News reports that Elden's parents were given R2 994 on the day of the photoshoot.
The lawsuit states: "Neither Spencer nor his legal guardians ever signed a release authorising the use of any images of Spencer or of his likeness, and certainly not of commercial child pornography depicting him."
Elden is seeking R2 235 286 in damages from surviving band members Dave Grohl and Krist Novoselic, as well as from Courtney Love, photographer Kirk Weddle, as well as a host of managers and record companies.
Algoa FM/Cat Kelleher