Press Office
Innovation and activations that drive sales
─── 15:51 Fri, 05 Nov 2021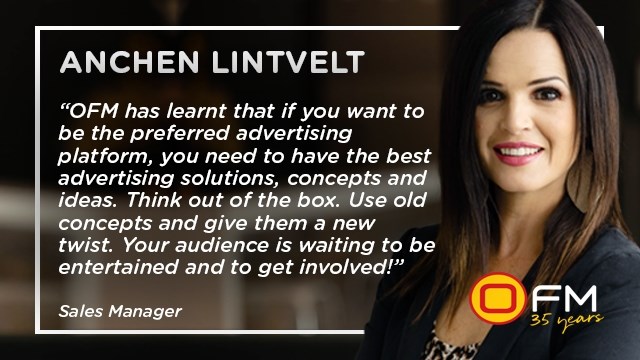 If there is one thing I learned from the pandemic it is that we as radio gurus are much more innovative and creative than we thought.
During the last couple of months, I have experienced so much creativity within our company that it makes me excited about what more we can offer our advertisers.
OFM has learned that if you want to be the preferred advertising platform, you need to have the best advertising solutions, concepts, and ideas.
The question we should ask is: "Is the normal 30-second commercial still enough?"
Advertisers want more. They want better ideas, more creative concepts, and more exclusivity.
How do we provide that to our advertisers? How do we get them to be excited again about their own brands and campaigns?
The pandemic has forced us to create campaigns on air to drive better results. Advertisers were scared to advertise and to spend money during the pandemic. As a commercial radio station, you depend on your advertisers to drive revenue. We had to think outside the box and come up with ideas that would sell and also deliver great results.
Non-traditional revenue (NTR) product offerings were by far our best solution. The OFM brand is a trusted brand amongst our listeners and people from Central South Africa still love to interact with our brand.
The first NTR concept that was created was OFM's 35th birthday kick-starter campaign: Spot the Yellow Fleet. OFM sent their entire yellow fleet into our footprint and encouraged listeners to take selfies when they spotted the cars. This campaign had a competition element. This went hand-in-hand with a sales solution to local businesses, with a special outside broadcast offering. While encouraging listeners to spot the fleet, we also parked the fleet at the outside broadcasts – which guaranteed an easy way to spot the vehicles and gave the listeners a better opportunity to stand a chance to win. The result was phenomenal. It was a great way to get our listeners involved via radio advertising and on-the-ground activities. Our advertisers were very satisfied with the number of feet through their doors and the exposure they received was well executed.
Another innovative idea was to combine a classic concept of "braai day" with an on-the-ground activation and giveaway. Everybody wants to braai, and everybody wants to win! During September, OFM celebrated Heritage Month with a braai day campaign every Friday. As part of our 35th birthday celebrations, we decided to invest in a few special and limited edition braai sets – branded with our 35th birthday logo – to give away to listeners. The braai set was a complete braai kit. It included a kettle braai with cover, stainless steel braai set, apron, OFM's Real Good Recipe book, LED braai light, casserole, wooden steak board, camp chair, cooler box and knife set – all worth R10 000! It was the ultimate gift for all braai lovers and OFM fans. Each Friday we had outside broadcasts at two venues – one from 09:00 to 12:00 and one from 12:00 to 15:00. Our team was extremely busy and the technical element to make this happen had to be of top standard. In total, we did eight outside broadcasts and gave away eight braai sets to listeners who supported the business that hosted the outside broadcast. All they had to do was to spend R350 at the business to be entered into the draw. This campaign was not only a great way to build brand love, but also increased sales at the participating businesses. It was the perfect retail campaign.
OFM plans many more of these types of combined campaigns. We have learned that on-air advertising, on-the-ground activations, and competitions go hand-in-hand. Creativity is limitless! Radio advertising is not just a 30-second commercial anymore. Listeners love to engage with the brand. And, when a radio station can manage to combine these elements successfully through innovation and creative ideas, you have a winning recipe!
Think out of the box. Use old concepts and give them a new twist. Your audience is waiting to be entertained and to get involved!
ENDS
For more info, please contact Lindiwe Mtwentula on 051 5050 900, 082 416 1665, or lindiwe@ofm.co.za.
---
Innovasie en aktiverings wat verkope dryf
As die pandemie my een ding geleer het, is dit dat ons as radioghoeroes baie meer innoverend en kreatief is as wat ons voorheen gedink het. Gedurende die laaste paar maande het ek soveel kreatiwiteit binne ons maatskappy ervaar dat dit my opgewonde maak oor wat ons nog alles aan ons adverteerders kan bied.
OFM het geleer dat as jy die voorkeur-advertensieplatform wil wees, jy met die beste advertensie-oplossings, -konsepte en -idees vorendag moet kom.
Die vraag wat ons moet vra is: "Is die normale 30 sekonde advertensie nog genoeg?"
Adverteerders wil meer hê. Hulle wil beter idees, meer kreatiewe konsepte en meer eksklusiwiteit hê.
Hoe verskaf ons dit aan ons adverteerders? Hoe kry ons hulle weer opgewonde oor hul eie handelsmerke en promosieveldtogte?
Die pandemie het ons gedwing om veldtogte op die lug te skep wat beter resultate behaal. Adverteerders was bang om te adverteer en om geld te spandeer tydens die pandemie. As 'n kommersiële radiostasie is jy afhanklik van jou adverteerders om inkomste te genereer. Ons moes buite die boks dink en met idees vorendag kom wat sal verkoop en ook goeie resultate sal oplewer.
Nie-tradisionele inkomste (NTR) produkaanbiedinge was by verre ons beste oplossing. Die OFM-handelsmerk is 'n betroubare handelsmerk onder ons luisteraars en die mense van Sentraal-Suid-Afrika hou steeds daarvan om met ons handelsmerk te kommunikeer.

Die eerste NTR-konsep wat geskep is, was OFM se 35ste verjaarsdag-bekendstellingsveldtog, Spot the Yellow Fleet. OFM het hulle hele geel vloot in ons uitsaaigebied ingestuur en luisteraars aangemoedig om ''selfies'' te neem wanneer hulle die voertuie gewaar. Hierdie veldtog het ook 'n kompetisie-element gehad. Dit het hand-aan-hand gegaan met 'n verkoopsoplossing aan plaaslike besighede, met 'n spesiale buite-uitsending aanbieding. Terwyl ons luisteraars aangemoedig het om die vloot raak te sien, was die vloot ook die buite-uitsendings sigbaar – wat 'n maklike manier was om die voertuie raak te sien en die luisteraars 'n beter geleentheid te gun om 'n kans te staan om te wen. Die resultate was fenomenaal. Dit was 'n goeie manier om ons luisteraars betrokke te kry deur middel van radio-advertensies en aktiwiteite op die grond. Ons adverteerders was baie tevrede met die aantal voete deur hul deure en die blootstelling wat hulle gekry het, is goed uitgevoer.
Nog 'n innoverende idee was om 'n klassieke konsep van "braaidag" te kombineer met 'n op-die-grond aktivering en die weggee van 'n spesiale prys. Almal wil braai, en almal wil wen! OFM het gedurende September Erfenismaand gevier met 'n braaidag-veldtog elke Vrydag. As deel van ons 35ste verjaarsdagvieringe het ons besluit om te belê in 'n paar spesiale en beperkte uitgawe braaistelle – gemerk met ons 35ste verjaardag kenteken – om weg te gee aan luisteraars. Die braaistel was 'n volledige braaistel. Dit het 'n ketelbraai met 'n deksel, 'n vlekvrye staal braaistel, 'n voorskoot, OFM se Real Good Recipe Book, 'n LED braailig, 'n kasserol, 'n hout biefstukbord, 'n kampstoel, 'n koelboks en 'n mes-stel ingesluit – alles ter
waarde van R10 000! Dit was die beste geskenk denkbaar vir alle braailiefhebbers en OFM-aanhangers. Elke Vrydag het ons buite-uitsendings by twee verskillende plekke gehad – een van 09:00 tot 12:00 en een van 12:00 tot 15:00. Ons span was baie besig en die tegniese element om dit te laat gebeur, moes uit die boonste rakke wees. In totaal het ons agt buite-uitsendings gehou en agt braaistelle weggegee aan luisteraars wat die onderneming ondersteun het wat die buite-uitsending aangebied het. Al wat hulle moes doen, was om R350 by die besigheid te spandeer om vir die trekking in te skryf. Hierdie veldtog was nie net 'n goeie manier om handelsmerklojaliteit te bou nie, maar het ook verkope by die deelnemende besighede opgestoot. Dit was die perfekte kleinhandelveldtog.
OFM beplan nog baie meer van hierdie tipe gekombineerde veldtogte. Ons het geleer dat op-die-lug advertensies, op-die-grond aktiverings en kompetisies hand-aan-hand gaan. Kreatiewe denke onbeperk! Radio-advertensies is nie meer net 'n 30 sekonde advertensie nie. Luisteraars hou daarvan om by die handelsmerk betrokke te raak. En wanneer 'n radiostasie dit kan regkry om hierdie elemente suksesvol te kombineer deur middel van innovasie en kreatiewe idees, het jy 'n wenresep!
Dink uit die boks. Gebruik ou konsepte en gee hulle 'n nuwe kinkel. Jou gehoor wag om vermaak te word en om betrokke te raak!
EINDE
Vir meer besonderhede, tree in verbinding met Lindiwe Mtwentula by 051 5050 900, 082 416 1665, of lindiwe@ofm.co.za.