Spot OFM's Yellow Fleet to stand a chance to win your share of R35 000 cash!
The Sound of Your Life turns 35 in 2021. To celebrate this momentous occasion, we're crisscrossing Central SA and giving you a chance to win big!
How it works:
Keep an eye out for any of OFM's yellow, branded vehicles travelling through Central South Africa between 12 February and 27 March 2021.
Take a selfie (or have someone take the pic for you) with one of the vehicles, while giving us the 'spot on' (okay) hand gesture.
Reply to our social media prompts with the selfie and the hashtag #OFM35, as pictured below.
You'll then be entered into the draw to become a finalist with a chance win the grand prize of R20 000 cash!
Keep your phone close, contestants who first answer the phone call from OFM and are taken to air will become finalists.
Should you have missed the call, do not despair, your entry is still valid and has a chance to be randomly drawn again for the duration of the campaign.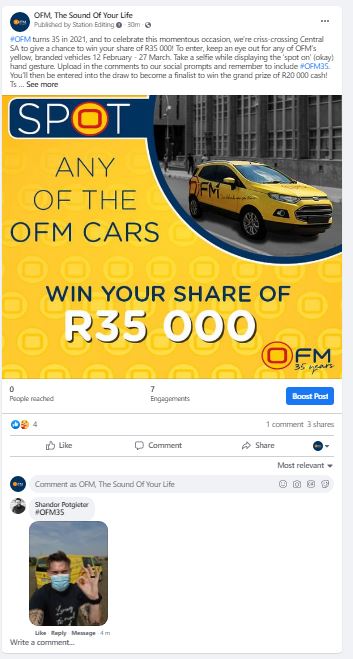 *Please note, only entries that adhere to Covid-19 safety protocols (wearing of a face mask to cover your nose and mouth) will be eligible.
Finalists will each win R1 000 cash and go into the draw for the grand prize of R20 000, which will be awarded on 31 March 2021.
Our yellow fleet of vehicles could pop up anywhere, at any time! But, listen out and check our website and socials for announcements on where our outside broadcasts are being held because you're sure to spot OFM's yellow fleet there, increasing your chances of becoming a finalist!
Plus, in the spirit of giving, OFM will waive the 60-day competition winner rule. This means you'll be allowed to participate and be eligible for prizes even if you've won on OFM's platforms in the past 60 days.
Good luck! We're looking forward to celebrating our 35th birthday with you!