Date: 19 July 2019
Time: 09:00 – 13:00
Did you know? Your ears are never inactive, not even when you are asleep. Your brain just doesn't react to the input.
Join Mid-Morning-Magic with Shandor Potgieter when we broadcast live from Deon Ceronio on Friday, 19 July. Have your hearing checked and also stand a chance to win a Signia Charge and Go hearing aid charger, or even the hearing aid, when you book an appointment this week.
The most common cause of hearing loss is exposure to loud sounds. If you work in a profession with constant exposure to loud sounds, it's time to get your hearing checked. Or, if you are struggling to follow a conversation in a crowded room it's time to get your hearing tested.
Some of the signs of hearing loss in children: Speech of language delays, complains of ear pain, earaches or noises, sits close to the TV to hear. If you notice that your infant or child shows any signs of hearing loss like make an appointment today to have your child's hearing tested.
Signia Hearing Aids is the best rechargeability solution in the hearing aid industry.
The original Li-ion rechargeable hearing aids offer the most natural sounding own voice and full connectivity.
Styletto Connect transforms the image of hearing aids from necessary medical devices to highly sophisticated hearwear. It has Bluetooth connectivity and renowned Signia Nx technology with Own Voice Processing (OVP).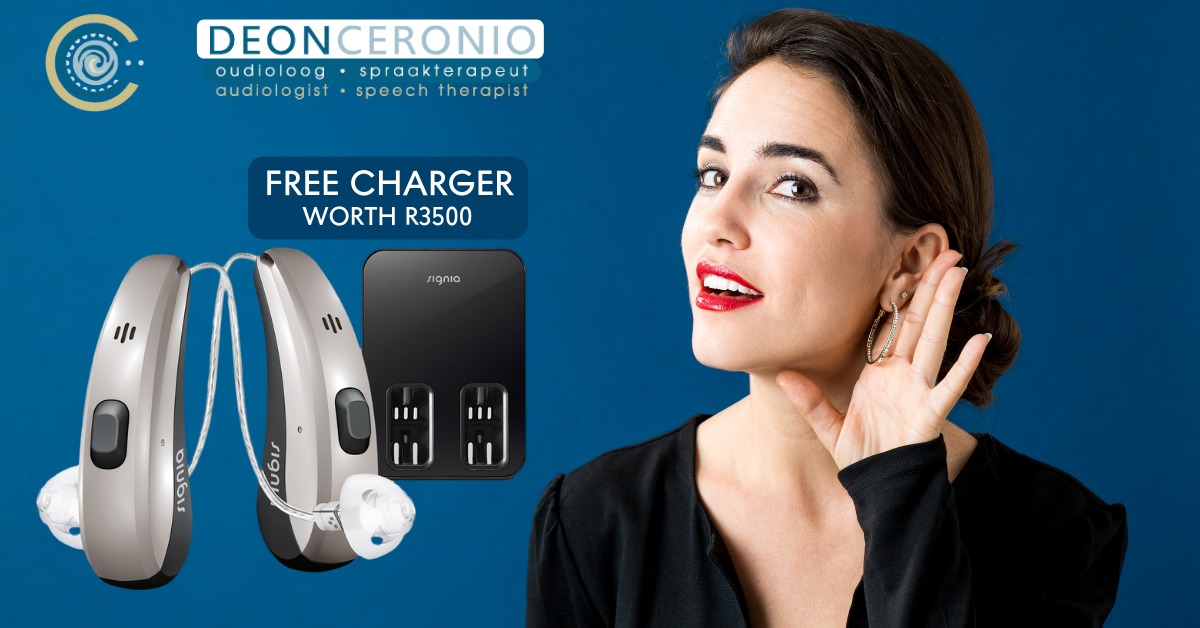 Order the Pure Charge&Go Nx and receive the charger valued at R3 500 for free. Limited stock, don't wait and order yours today.
Advantages:
* More than just a hearing aid
* Stiletto is high tech hear wear
* It offers pure design
* Top quality materials
* Show your independence
* Enjoy Stiletto all day with a full charge
* And three more days of use
* With its ultra-slim portable charging case
* Experience the most natural hearing
* With a natural sounding own voice
* And outstanding sound quality
This well-established practice is a known name in the city of Bloemfontein and surroundings. It has been providing quality scientifically-funded products and therapy since 1997.
Deon Ceronio's team of audiologists, speech therapist and admin staff are dedicated to provide excellent service to you as the client. Their products are supplied by international companies known for their ongoing research, development and use of the latest technologies. As communication is the essence of life they are passionate in supporting their clients on the road to optimal communication.
The following services are provided for paediatric and adult patients at this practice:
Screening Services
Industrial baselines and annual screening tests
Newborn and infant hearing screening
Diagnostic Services
Full range of diagnostic audiological tests for all ages, including Auditory Brainstem
Response (ABR) and Auditory Steady State Response (ASSR) testing
Industrial diagnostic testing
Hearing Aid Services
Hearing aid evaluation and selection guidance
Hearing aid fittings and follow-up
Hearing aid repairs and servicing
Provision of hearing aid batteries and accessories
Provision of assistive listening devices
Cochlear Implants
Part of the Bloemfontein Cochlear implant team
Cochlear implant evaluation and selection guidance
Cochlear mappings
Customised Ear Protection
Noise protection earplugs
Stop gun earplugs
Swim- and sleeping plugs
Central Auditory Processing Disorder
Auditory processing evaluation (SCAN)
Auditory perceptual evaluation
Speech and Language Therapy
Speech, language and communication difficulties
See more at: http://www.deonceronio.co.za