Agri Hour
Hier is van jou hoof landboustories op OFM
─── ELSABÉ RICHARD 05:30 Fri, 16 Jul 2021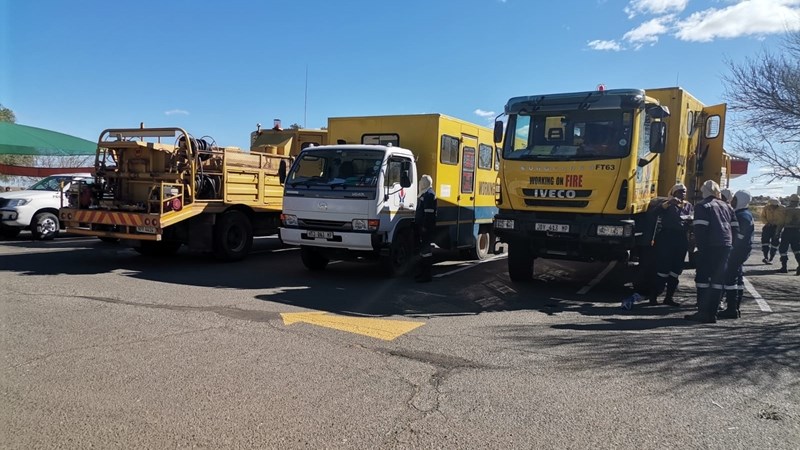 Ons kyk nou na jou week in die landboubedryf. OFM-nuus se Elsabé Richard lig nou vandeesweek se hoofstories op OFM uit...
Sien onderstaande PODCAST
Die verwoestende veldbrande van Oktober 2020 het nuusopskrifte regoor die land gehaal toe sowat 100 000 hektaar veld in die Hertzogville-, Boshof-, en Hoopstad-gebied in die Vrystaat deur wegholbrande verwoes is. Boere het nie net veeweiding verloor nie, maar ook plaasinfrastruktuur en hul diere. Die provinsie is Maandag 12 Julie weer deur veldbrande in verskeie gebiede geteister. Veldbrande het Dinsdagoggend nog aktief in die Jagersfontein-omgewing gebrand en boere, onder andere, het ingegryp om te help om die brande onder beheer te kry. 'n Vrystaatse boer, Thys Grobbelaar van die plaas De Hoop, het aan OFM-nuus gesê dat hulle Maandagmiddag begin het om vuur te slaan by Soutpan buite Bloemfontein. Hy sê daar was ook 'n redelike groot brand by die Bultfontein/Brandfort-pad. Grobbelaar sê dit is wonderlik hoe boere en die breër publiek mekaar in nood help.
A report containing details of the extent of the damage that recent veldfires in the Free State have caused, is expected to be released within two weeks' time. This is according to Free State Agriculture MEC, William Bulwane. Bulwane spoke to OFM News after fires that broke out on Monday, caused extensive damage to the affected farms. Preliminary estimates have shown that the veldfires that began last week have caused damage to an estimated 70 000 hectares of grazing land. It is also estimated that about 26 000 hectares of grazing land have been destroyed in Tierpoort alone. Other towns that have been affected are Thaba Nchu, Koffiefontein, Jacobsdal, Petrusburg, Fauresmith, Kroonstad, Soutpan, Bultfontein, Bainsvlei and Edenburg. Farmers have reported losses of game animals, livestock and infrastructure on farms. The department further stated that it will engage with various stakeholders and assist farmers with providing information on early warning signs of possible fires. Meanwhile, Free State Agriculture has appealed to the public, those who are able to, to please make donations to help farmers who are in need. Visit the organisation's website for more details.
Voortslepende droogtetoestande in dele van die land, sowel as verhoogde produksiekoste, lei daartoe dat die getal volstruisprodusente in die land afneem. Dit is volgens Piet Kleyn, hoof uitvoerende beampte van die Suid-Afrikaanse Volstruis-sakekamer. Kleyn sê egter dat daar nog heelwat produsente in droeër dele in onder meer die Noord-, Wes-, en Oos-Kaap, sowel as die Vrystaat, is. Ander volstruisprodusente is in die Suid-Kaap, met een produsent wat in Limpopo geleë is. Baie van die volstruisboerderye spruit uit droë gebiede omdat daar min alternatiewe is om mee te boer. Dit, omdat daar nie baie waterbronne is om ander tipes produksie aan te pak nie.
EN
Free State Agriculture and the Red Meat Producers Organisation welcome the arrests made by the Hawks on Wednesday, where five police officers and two animal stock brokers were arrested in Bloemfontein and Ladybrand respectively. The arrests relate to a request by Herkie Viljoen, Chairperson of the Bethlehem Regional Office, to the Minister of Police, Bheki Cele, in October 2020 after a march in Senekal over the murder of farm manager, Brendin Horner, for the establishment of a task force to investigate allegations of police corruption and stock theft in the area. During the Minister's visit to the Bethlehem area, a document containing the allegations was handed to him. The suspects are expected to appear in the Ladybrand Magistrate's Court on Thursday 15 July, facing charges of stock theft, defeating the ends of justice and perjury. The livestock brokers will also face charges relating to the possession of unlicensed firearms.
OFM-nuus