Agri Hour
Alpacas are perfect to guard herds
─── ELSABÉ RICHARD 05:30 Thu, 07 Oct 2021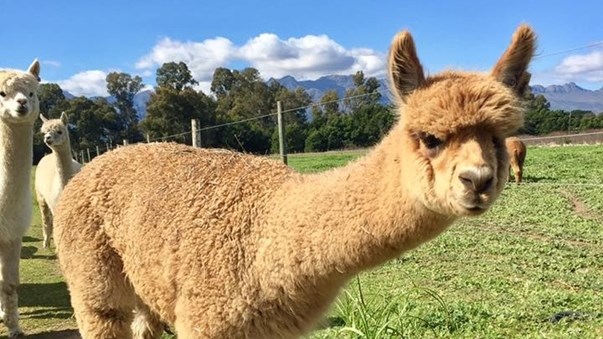 When most of us think of alpacas, we think of their ability to spit at their target if annoyed.
However, these animals are not only classified as exotic, but are also seen as great guarding herds against predators such as jackals.
Gavin Lindhorst, owner of African Alpacas in the Western Cape, says alpacas are underrated among farmers and he would highly recommend that sheep farmers invest in them.
See PODCAST below
Lindhorst, who is a former dentist, started importing alpacas in the year 2000, which was a first of its kind in South Africa. He did extensive research and travelled to countries such as Australia, England and Canada, just to name a few, to learn more about alpacas and to see if the business would be viable in South Africa.
Alpacas can be regarded as the perfect herd guard because "they've got certain herding instincts. In a group of sheep, the weaker ones are the ones that would be strugglers and they would be the targets [for predators] because they're away from the herd. The alpaca would actually keep everybody together in a group.
"They're taller and larger. They've got large eyes – very good eyesight and a very good sense of smell. So, they would apprehend a predator, whether it be a stray dog that they don't know or a jackal, and they would approach it, run towards it, making an intimidating noise," explains Lindhorst.
For a flock of 250 sheep, a farmer would need about one or two alpacas. Lindhorst says alpacas have great eyesight and therefore operate well in areas that are not very hilly or that is not too forest-like. He says some farmers have reported that they work better on their own, while other farmers have found that the alpacas work better in pairs.
It is recommended that when introducing an alpaca to a herd, they should be kraaled with the sheep for a period of time before lambing to provide time for them to bond and to realise that that is the herd that they should guard.
Lindhorst describes alpacas as easy animals to keep as they do not need special foods. They are usually given game pallets or grass and hay, amongst other feed.
He says that alpacas are adaptable to most parts of South Africa, except for areas with high humidity such as the KwaZulu-Natal coast.
One herd guard, which is usually a male, is normally sold for R5 500, including VAT. Pregnant alpacas as well as those that are sold for breeding, are pricier, with prices ranging from about R12 000 to R20 000.
Some interesting facts about alpacas
"They are bred primarily for their fibre, which is why they're called 'the fibre of the gods' by the Inca people, and it's akin in fineness and quality to cashmere.
"Their breeding is different. They don't have an estrous cycle. They can be bred any time of the year and they have what is called induced ovulators, which means they ovulate after they've mated.
"They have a fairly long gestation… for about 11.5 months.
"Their lifespan is about 15 to 20 years, and from a health point of view, they get the normal vaccinations and deworming's that sheep get.
"There is a saying that the llamas spit to annoy you and alpacas spit when it is annoyed. It's a protective mechanism… and when they're pregnant and the male is nearby, she will spit at the male. That's an indication of her pregnancy," shares Lindhorst.
About African Alpacas
"We are based in a new purpose-built farm, Inca Vale, in the Boland just south of Wellington. We are open to visitors by appointment. By car, it is 50 minutes from Cape Town. Whether you're an experienced alpaca breeder or new to these unique and beautiful animals you will enjoy working with Dr Gavin Lindhorst, owner of African Alpacas. His enthusiasm and love for alpacas have influenced the development of the alpaca business in South Africa for the past twelve years."
For more information visit African Alpacas' website or send an email to info@africanalpacas.co.za.
OFM News