CentralSA
FS SAPS fixes potholes
─── LUCKY NKUYANE 09:53 Sat, 20 Feb 2021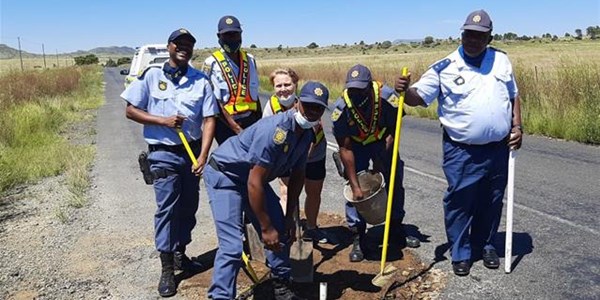 Members of the police in the Free State took it upon themselves to fix potholes on the notorious R702 road between Wepener and Zastron.
The men and women in blue from the Vanstadensrus Police Station and the Community Police Forum rolled up their sleeves and used gravel to level the potholes on the road.
Park Road Police Station Communication Manager, Thabo Covane, says this follows a bad state of the road which has been a cause of some of the accidents in that area.
Following flooding, which was caused by heavy rain across the province, a lot of roads in and around the Mangaung Metro area, which include Bloemfontein, were left damaged leaving motorists concerned for their safety.
Covane says the Mangaung Metro Police Commissioner, Peter Moloi, commended the efforts by the men and women in blue.
"Moloi thanks the team for creative thinking to protect property and save road users' lives. The bad state of the roads results in accidents that lead to the increase of culpable homicide cases," Covane adds.
OFM News