CentralSA
#MySPUGrad: 400 Sol Plaatje University students graduate
─── OLEBOGENG MOTSE 12:19 Sat, 01 May 2021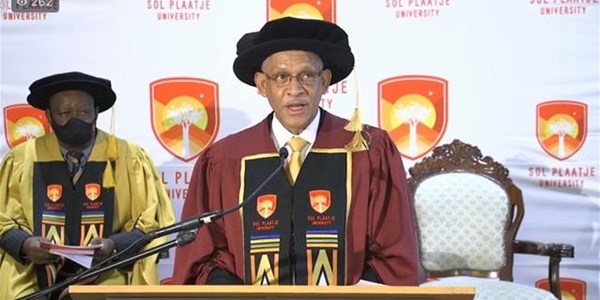 About 400 Sol Plaatje University (SPU) students are graduating from the Northern Cape University on Saturday 1 May.
The university's 6th graduation ceremony since its inception in 2014, is currently taking place virtually.
The 2021 cohort of graduates is being awarded certificates, diplomas and degrees from the schools of Education, Humanities, Natural & Applied Sciences, and the School of Economic & Management Sciences respectively.
Interestingly, SPU's School of Education is the biggest of the four schools. It offers two-degree programmes; the Bachelor of Education in Intermediate Phase Teaching (Grade 4 to 7) and the Bachelor of Education in Senior Phase and FET Phase Teaching (Grade 8 to 12) and is set to award the largest number of graduates with their qualifications on Saturday.
SPU Vice-Chancellor, Andrew Crouch, just addressed students telling them that one's graduation is a special event and celebration for their hard work over the years.
Crouch told OFM News in 2020, shortly before assuming the role of Vice-Chancellor, that the Northern Cape-based institution needed to focus on the scholarship of teaching and learning in part by establishing niche base programmes and building the reputation of said programmes. Having had been Dean of the Science Faculty and Vice-Chancellor responsible for academics at the University of the Witwatersrand, Crouch was well acquainted with "establishing teaching and learning and entrenching it". Ultimately, the aim is that Sol Plaatje will become a research-intensive institution, said Crouch.
OFM News reported recently that the institution receives approximately 86% of its revenue from government grants. According to Statistics South Africa (Stats SA), the University of Mpumalanga and SPU are the traditional institutions of higher learning that depended the most on government grants in 2019. Stats SA notes that both universities were established in 2014 and are therefore still new. While these institutions, from a percentage perspective, depend on the government more than their established counterparts, this does not mean they cost government the most from a Rands perspective.
The universities of Cape Town (UCT) and the Witwatersrand, depend the least on government grants in the country – roughly a third of their revenue comes from the state. However, the value of the money they receive in Rands from government is significantly higher than that given to the University of Mpumalanga and SPU combined. For example, government grants cover 34% of UCT's overall R6,9 billion revenue. This translates to over R2,3 billion in funding, double the amount given to Mpumalanga, and almost three times more than the funding allocated to Sol Plaatje by the state.
OFM News