CentralSA
CUT students arrested during Bfn protests - VIDEO
─── LUCKY NKUYANE 14:42 Mon, 05 Jul 2021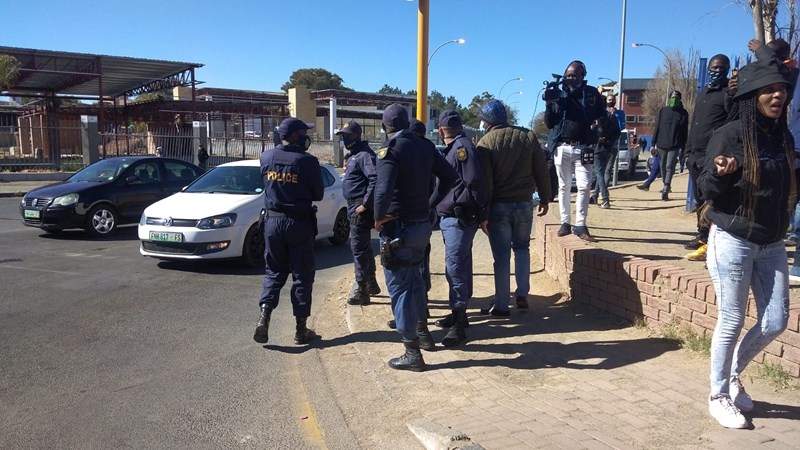 The Free State police have arrested students who were allegedly part of Monday's protests at the Central University of Technology's (CUT) Bloemfontein-based campus over student allowances and the suspension of student leaders, amongst others.
The student activist, Moeketsi Moeketsi, tells OFM News that at least two students - a male and a female - were arrested by the police during the protests on Monday. He says he understands that the students were arrested for contravening the National Disaster Management Act. Moeketsi, who is part of the group that embarked on protests over the suspension of student leader, Moses Ntonayne, and for the disbandment of EFF Student Command (EFFSC), told OFM News that the police shot rubber bullets at students and used stun grenades. The police are yet to comment on OFM News' inquiry.
"We told them that we don't mind to disperse but we want to get to our institution in order to for us to go and back and structures how we were going to [forward] but they told us that we have a minute to disperse even before can fully address the students to says the police us two minutes to disperse, what, must happen now so we believe that tee police we also not fair in terms of dispersing the students," he adds.
OFM News managed to capture the moment the police arrested a student amidst the protests. The students were scattered across the road between Park Road and President Brand Street.
Students have vowed to continue with the shutdown of the university until their demands have been addressed by management. Students embarked on protests on Sunday at 18:00, supported by the South African Student Congress Organisation (Sasco) over what they deem to be protracted issues.
OFM News previously reported that due to the alleged failure to pay student allowances, many students said they had to deregister.
OFM News