CentralSA
Free State premier announces lifestyle audits
─── LUCKY NKUYANE 10:35 Tue, 12 Apr 2022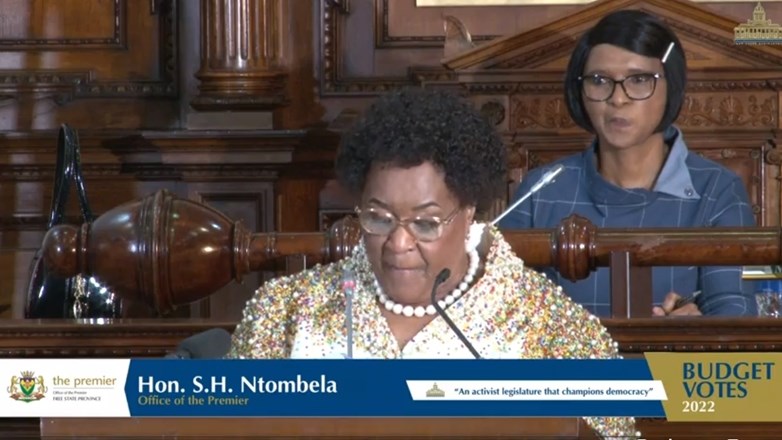 The Free State premier, Sisi Ntombela, has announced that provincial officials, including those in departments and municipalities, among others, will now be subjected to lifestyle audits and vetting processes.
Addressing the Provincial Legislature's sitting on Tuesday morning, Ntombela explains that lifestyle audits are now compulsory for public servants. Tabling her premier budget for 2022/23 she told Members of the provincial legislature (MPLs) that all those who visibly live beyond their means will have to account for their unexplained high standard of living.
The announcement comes after irate residents this past weekend told President Cyril Ramaphosa, during the Presidential Imbizo, that officials employed in government where causing chaos and looting public funds. The Public Service and Administration Minister, Ayanda Dlodlo, recently announced that lifestyle audits will be compulsory for all national and provincial departments from 1 April 2022.
Also read: Government implements lifestyle audits
Dlodlo said the 15 national departments that conducted the lifestyle audits managed to verify the assets of designated employees who declared on the eDisclosure system.
"This is a requirement in terms of the guide on implementing lifestyle audits in the public service, which enables departments to identify conflicts of interests such as employees performing other remunerative work or employees conducting business with the state and unexplained wealth which will be reported to the police for criminal investigation," Dlodlo added.
Meanwhile, Ntombela announced that her government aims to improve accountability and transparency - and efficiency is also important - in combating and exposing acts of corruption in government.
"Not only does corruption deprive the people of their livelihoods, but also worsens unemployment, poverty and inequalities. Implementation of our Fraud Prevention and Detection Plan will be intensified to instill professional and ethical conduct and each year we ensure full compliance with financial disclosure in government. Lifestyle audits are now compulsory for public servants. All those who visibly live beyond their means will have to account for their unexplained high standard of living," she adds.
She told MPLs and members in the gallery that her government will be working with the Public Service Commission.
"We will also refer cases of officials conducting business with the government to law enforcement agencies for appropriate action. We reiterate our commitment to improving audit outcomes of the Office of the Premier to ensure sound financial management. All efforts will be made to prevent irregular, fruitless and wasteful expenditure.
We will work with the Office of the Auditor-General to achieve these objectives and diligently implement our Audit Action Plan.
We will continue to pay our suppliers within the stipulated 30 days to stimulate economic growth. Risks that hamper effective service delivery will be identified and measures will be put in place to mitigate them," Ntombela further added.