General
Bloemin' Good Week - SPCA Bloemfontein
─── 00:00 Wed, 21 Jul 2021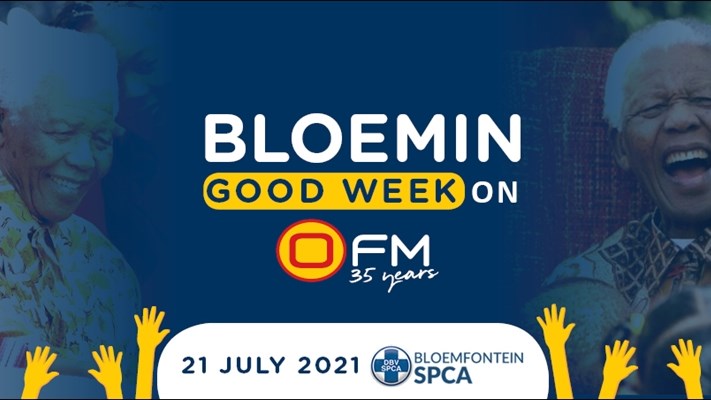 In July, South Africa celebrates former President Nelson Mandela's birthday. 18 July has been declared Nelson Mandela International Day, but as South Africans, we embrace the chance to celebrate Nelson Mandela's life for the whole of July.
From 19 July 2021 to 23 July, OFM will celebrate the caring people who work with those who need it most. Tune in to hear all about the great work Child Welfare Bloemfontein and Childline Free State, the Bloemfontein SPCA, Help-U Foundation, Lettie Fouché School, and Engo Free State are doing.
SPCA Bloemfontein
The largest SPCA in the Free State, serving Mangaung and surrounding areas, Bloemfontein SPCA is a registered non-profit organisation and a member of the National Council of SPCAs. They rescue abused and neglected domestic, farm and wild animals, provide a shelter for stray and unwanted animals, offer a pet adoption facility, and educate pet owners on animal care.

Bloemfontein SPCA relies on the community they serve for the funds needed to provide their vital service. They also accept donations of pet food, blankets and other items. They work tirelessly, and cover thousands of kilometres every year, to rescue animals from abuse and neglect, and bring those responsible to justice.
Their mandate extends not only to domestic pets, but includes farm animals, reptiles and wild animals. Over the past 20 years, 97% of cases brought to court by the Bloemfontein SPCA have resulted in a successful conviction.
Wherever possible, Bloemfontein SPCA endeavours to find new and better homes for stray animals, and those that have been abandoned, surrendered, abused or injured. They urge prospective pet owners to adopt rather than buy from breeders and pet shops.
Bloemfontein SPCA runs an education programme for school children, teaching them compassion for animals and the basics of responsible pet ownership. Through outreach projects into communities, they teach people about the need to vaccinate pets against rabies and other deadly diseases, and the importance of de-worming and parasite control. They also sterilise as many pets as possible.
Bloemfontein SPCA provides veterinary treatment for abused and injured stray animals, as well as basic health care – including vaccinations, sterilisation and parasite control – for dogs and cats belonging to underprivileged people who cannot afford the services of a private veterinarian. Their free dog dipping service is crucial in providing tick and flea control, without which skin irritation and infection becomes a health issue.
They are entirely dependent on the community for the funds they need to continue rescuing and protecting animals. Please support Bloemfontein SPCA's work for the sake of animals that are suffering and in distress.

For more information, visit bloemfonteinspca.co.za