News Talk
Ilse Cooks the Books: Slow-baked beef short-rib
─── 14:17 Fri, 07 Aug 2020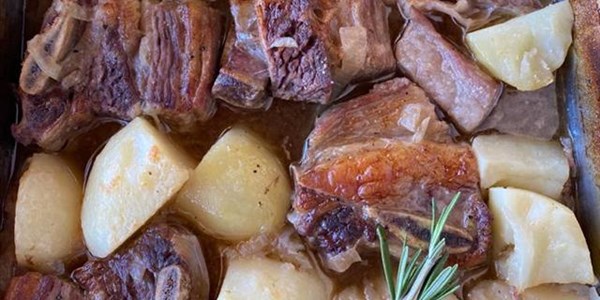 With all this crazy Covid-19 business going on, I've become very nostalgic for the food I grew up with. I think it's because many of our best memories are connected to food.
When I started to cook, it was all about quick, easy recipes often with an international background: Thai curries, Italian pasta dishes, Chinese stir-fries, Mexican enchiladas.
These days I think about my grannies, my aunties, and my dearly departed mother. I long for kitchens warm and steamy in winter with pots bubbling on the stove and sitting at the kitchen table in summer, with a glass of ice-cold lemonade, watching my maternal granny make no-bake chocolate treats.
So I'm cooking a lot from my South African cookbooks these days. It's not about being in and out of the kitchen as quickly as possible. It's about recreating the recipes of the women who influenced my life so greatly.
SLOW-BAKED BEEF SHORT-RIB (THE CLASSIC SOUTH AFRICAN COOKBOOK by Melinda Roodt)
15 ml olive oil
1 onion, sliced
1,2 kg beef short ribs, cut into 8 cm pieces
10 ml beef stock powder
500 ml water
10 ml salt
Freshly ground black pepper
5 medium-sized potatoes, cut into quarters
A few sprigs of rosemary to garnish
Preheat the oven to 180?C.
Heat the olive oil in an ovenproof pot and cook the onions over a medium heat until soft. Add the short rib to the pot and brown all over. Mix the beef stock powder with the water and add to the pot. Season with half of the salt and a few cracks of black pepper.
Cover and bake in the oven for 90 minutes. Add the potatoes to the pot, cover again and bake for another hour. Take off the cover and allow the meat to brown in the oven, turning both the meat and the potatoes occasionally. Garnish with the rosemary and serve with white rice, green beans and sweet pumpkin.
Follow me on Twitter (ilse123) or on Facebook (https://web.facebook.com/IlseCooksTheBooks/) to chat about food and more!
ooOoo