News Talk
Ilse Cooks the Books: Quick Breakfast Scones
─── 14:58 Thu, 01 Oct 2020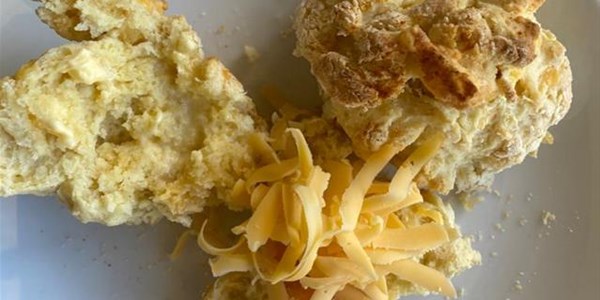 Sometimes you have unexpected guests (or even expected guests but you are ill-prepared – it happens).
You have to give them something for breakfast, but you have no bread to make toast. Go to the corner store and buy a loaf, I hear you say. But perhaps you live on a farm and you don't have a corner store to go to.
Enter - these super quick, super easy breakfast scones. It's not the traditional fluffy puffy scones you would enjoy at a high tea. Rather, it's a bit more dense and filling. Perfect for breakfast then. They're not as good the next day so eat them straight away, still warm from the oven with creamy butter and sweet jam. And of course, everything is better with cheese on top.
QUICK BREAKFAST SCONES (Keur uit die Kookkuns)
Makes 12 scones
500 ml cake wheat flour
15 ml baking powder
5 ml sugar
2 ml salt
5 ml mustard powder
125 ml grated Cheddar cheese
1 egg
100 ml milk
100 ml water
50 ml sunflower/canola oil
Paprika
Sift the flour, baking powder, sugar, salt, and mustard together. Add the cheese. Whisk together the egg, milk, water, and oil. Make a hole in the middle of the dry ingredients and pour in the liquid. Mix lightly with a fork until you have soft dough (don't overwork it!). Put spoonsful of dough on an oiled baking sheet, sprinkle paprika over the top and bake for 10-12 minutes at 220?C.
Follow me on Twitter (ilse123) or on Facebook (https://web.facebook.com/IlseCooksTheBooks/) to chat about food and more!
ooOoo