News Talk
Ilse Cooks the Books: Thai Red Pork Curry
─── 12:22 Fri, 21 Aug 2020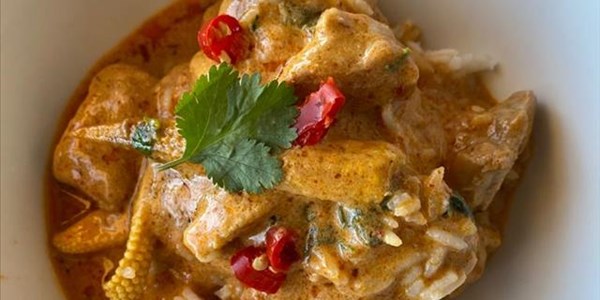 Just when we thought winter was almost over, this past week gave us a nice cold klap to bring us back to reality.
Yes friends, don't mistake August for Spring just yet. As always, Mother Nature has the last laugh.
In my previous blog post, I reminisced about the food I grew up with. It's a source of comfort during a time that can only be described as crazy (and cold). That is still very true. However, I still like to flirt with more exotic cuisines, and why not? The best thing about travelling, is the food. The best thing about coming home, is the food.
With international travel showing no signs of being reopened yet, we travel down the hallway to the kitchen to recreate the food memories we love. Like this bowl of deliciousness, when cold weather (and crazy times) makes us feel a little blue.
THAI RED PORK CURRY (THE ESSENTIAL WOK COOKBOOK)
The recipe calls for a cup of fresh Thai basil. Even if I had access to Thai basil here in the platteland, my husband has a tenuous relationship (at best!) with fresh herbs. Therefore, a little bit of chopped coriander is what I used. Also, fresh kaffir lime leaves? Use dried by all means.


400 ml (1 can) of coconut cream (do not shake)
1½ tablespoons of Thai red curry paste
500 g pork loin/fillet, trimmed of excess fat and sinew and cut into cubes
30 ml (2 tablespoons) fish sauce
15 ml (1 tablespoon) grated palm sugar (I just use soft brown sugar)
4 fresh (or dried) kaffir lime leaves
Punnet of fresh baby corn, sliced in half on the diagonal
1 cup loosely packed Thai basil (or fresh coriander – as much or as little as you like)
Thinly sliced red chilli to garnish.
Brown the pork cubes in a little bit of vegetable oil in a wok or large pan. Remove from the pan. Open the can of coconut cream and scoop off the thick cream from the top. Put the cream in a wok and bring to the boil, then simmer for 5-10 minutes until the oil starts to separate from the cream. Add the curry paste and mix well. Simmer for 2-3 minutes or until fragrant.
Add the pork cubes back into the coconut cream and stir in the fish sauce, sugar, lime leaves, corn and remaining coconut cream (the coconut water that is left in the can) and cook for a few minutes until the pork is cooked and tender. Stir in the basil/coriander, garnish with the chilli, and serve over rice.
Follow me on Twitter (ilse123) or on Facebook (https://web.facebook.com/IlseCooksTheBooks/) to chat about food and more!
ooOoo