Press Office
OFM competitions – Winning ideas over the years
─── 13:53 Fri, 07 May 2021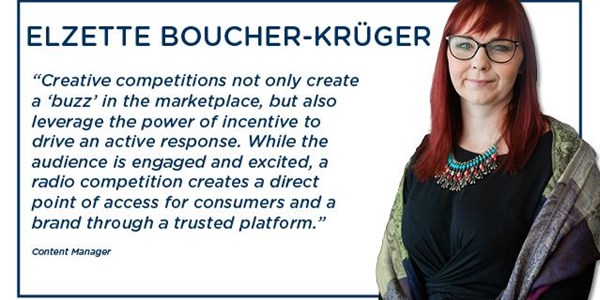 From laid-back lounges to bustling traffic; from tiny corner shops to majestic malls – OFM resounds across Central South Africa with dials turned up, not only to amplify the great music on offer, but whenever there's a chance to win.
When considering OFM as an acronym, the 'F' can certainly come to represent 'fun' and 'frequency'.
OFM has put its money where its mouth is when it comes to the competition tagline "For the competitions of your life!"
Over the past three-and-a-half decades, the radio station has given away millions of rand in prizes - ranging from life-changing experiences, overseas holidays, and watching global icons live in concert, to vehicles, a house, copious amounts of cash and even brilliant gag prizes like bags of bragging rights and an air guitar played with a branded OFM pick.
OFM listeners know that tuning in affords them daily chances to win with our headline shows' benchmark popular quizzes known as The Money for Nothing Quiz (Good Morning Breakfast, weekdays, 06:00 - 09:00) and The Time Trap (The Joyride, weekdays, 15:00 – 18:00).
An extremely popular competition is the OFM Cash Call. Around 3 000 listeners participate in this bi-weekly promotion by listening out for certain 'trigger' songs and then entering for a share of R10 000.
Recently, to launch OFM's 35th birthday celebrations held throughout 2021, OFM presented the 'Spot the Yellow Fleet' competition which offered listeners a chance to win a share of R35 000 by spotting any of OFM's fleet vehicles, taking a selfie, and uploading it to social media.
During the campaign, which spanned six weeks across February and March, more than 1 300 entries were received from the two dozen towns OFM visited during the time. On social media, this competition garnered a reach of more than 657 000, as well as 35 000 interactions. This competition also gave presenters and staff the opportunity to engage with listeners to build brand love.
Another, extremely successful multi-platform campaign run in 2020, requested recipes from our audience, which were collated in Central SA's very own cookbook to showcase the region. One lucky home cook received a R30 000 grocery voucher.
OFM's most popular competition throughout the years, however, remains 'The Safe'. Here listeners are afforded the opportunity to choose between a number of 'vaults', each containing a cash prize or booby trap. Listeners continue to play until they opt out, keeping their winnings, or hit a booby trap and lose it all. This competition has received over 100 000 entries during a two-week campaign.
Dubbed the ultimate 'theatre of the mind', radio has always led the charge when it comes to contests and promotions. For instance, it's not only 'soap operas' that were first presented on the radio that later found a popular home on television and the web, the globally renowned game show 'Who Wants To Be A Millionaire?' also has its roots in radio.
Creative competitions create a 'buzz' in the marketplace and leverage the power of incentive to drive an active response. While the audience is engaged and excited, a radio competition creates a direct point of access for consumers and a brand through a trusted platform.
Even though not all listeners enter the competition, they will often remain tuned in to hear the outcome - to find out who wins or what was the correct answer to the question or riddle.
While certain mechanics have become outdated over the years, certain staples stood the test of time. These include: guess the 'secret sound', find the 'bandit', pay your bills, win your dream (insert 'big item' here – house, car, vacation, wedding, etc.), minute-to-win-it, 'when you hear', choose a number, and beat the clock. All these traditional radio competitions have undergone countless permutations but are all still essentially the highly popular radio competitions audiences love and offer brands optimal exposure.
Over the years, OFM has learned that our audience, although comprising various demographics across four provinces, respond best when the following is present in a competition: the music they love, an opportunity to be right, and of course a nice cash prize. Thus, a music quiz or game always remains a winning promotion.
Also, the number of entries expected is directly proportional to the ease with which the competition can be entered as well as the incentive. Don't expect your target to run around and jump through hoops for R100, start adding some zeros and you might get them to jump through a couple. Overly complex mechanics are never recommended as these will not garner the required response.
Furthermore, aside from the hype and brand love that could result from a radio competition, technology now affords insights into the audience. It is possible to accurately track and even poll, with their consent, of course, entrants on their preferences and behaviour - invaluable insights for brands.
When an on-air endorsement is coupled with the insights that online provide, a radio competition - utilising its digital platforms as well - is a sure-fire promotion offering the biggest amount of exposure in the shortest amount of time.
All of OFM's competitions are tailored to ensure that they not only offer entertainment to the audience but also reach the desired outcome for the advertiser. OFM highly values the statement that we not only offer a platform for your next winning promotion but that we are your media partner when it comes to growing your business.
ENDS
For more info, please contact Lindiwe Mtwentula on 051 5050 900, 082 416 1665, or lindiwe@ofm.co.za.
---
OFM kompetisies - wen idees oor die jare

Vanuit ontspanne sitkamers tot binne-in druk verkeer; hetsy in klein winkeltjies of kolossale winkelsentrums - OFM weerklink oor Sentraal-Suid-Afrika met klank wat nie net harder gedraai word vir gunsteling musiek nie, maar ook wanneer daar 'n kans is om te wen.
Wanneer OFM as 'n akroniem beskou word, kan die 'F' beslis 'fun' (pret) en 'frekwensie' verteenwoordig.
En, OFM se kompetisie slagspreuk, "Vir die kompetisies van jou lewe", is nie net mooipraatjies nie.
Oor die afgelope drie-en-'n-half dekades het die radiostasie miljoene rande aan pryse weggegee, wat wissel van lewensveranderende ervarings, oorsese reise en wêreldwye ikone in konsert, tot voertuie, 'n huis, groot hoeveelhede kontant en selfs briljante 'foppryse' soos sakke 'spogregte' en 'n lugkitaar gespeel met 'n OFM-plektrum.
OFM-luisteraars weet deur in te skakel dat hulle daaglikse kanse het om te wen met die hoofprogramme se gewilde vasvraekompetisies bekend as The Money for Nothing Quiz (Good Morning Breakfast, weeksdae, 06:00 - 09:00) en The Time Trap (The Joyride, weeksdae, 15:00 - 18:00).
'n Uiters gewilde kompetisie is die OFM Cash Call. Ongeveer 3 000 luisteraars neem aan hierdie tweeweeklikse promosie deel deur vir bepaalde liedjies te luister en dan in te skryf vir 'n kans om 'n deel van R10 000 te wen.
Om OFM se 35ste verjaardagviering gedurende 2021 van stapel te stuur, het OFM onlangs die 'Spot the Yellow Fleet'-kompetisie aangebied, wat luisteraars die kans gegun het om 'n deel van R35 000 te wen deur 'n selfie met een van OFM se vlootvoertuie te neem en op sosiale media te plaas.
Tydens dié veldtog, wat oor ses weke gestrek het gedurende Februarie en Maart, is meer as 1 300 inskrywings ontvang van die twee dosyn dorpe wat OFM gedurende die tyd besoek het. Op sosiale media het hierdie kompetisie meer as 657 000 bereik en 35 000 interaksies is behaal. Hierdie kompetisie het ook aanbieders en personeel die geleentheid gebied om met luisteraars in gesprek te tree om handelsmerkliefde op te bou.
Tydens nog 'n uiters suksesvolle veelvuldige veldtog wat in 2020 aangebied is, het OFM resepte van ons luisteraars aangevra, wat saamgevat is in Sentraal SA se eie kookboek wat die streek ten toon stel. Hier is een gelukkige huiskok met 'n R30 000 koopbewys beloon.
OFM se gewildste kompetisie deur die jare bly egter 'The Safe'. Luisteraars word die geleentheid gegun om te kies tussen 'n aantal 'kluise', wat elk 'n geldprys of 'n valstrik bevat. Luisteraars speel totdat hulle vra om te stop en die geld wat hulle verdien het, te wen, of in 'n valstrik beland en alles verloor. Hierdie kompetisie het meer as 100 000 inskrywings ontvang tydens 'n veldtog oor 'n tydperk van twee weke.
Radio vlieg die verste as dit kom by die verbeelding aangryp en het nog altyd die weg gebaan as dit kom by wedstryde en promosies. Dit is byvoorbeeld nie net 'sepies' wat vir die eerste keer op radio aangebied is, wat later 'n gewilde tuiste op televisie en op die web gevind het nie - die wêreldbekende speletjieprogram 'Who Wants To Be A Millionaire?' het ook sy wortels in radio gehad.
Kreatiewe kompetisies veroorsaak nie net 'n gonsende mark nie, maar gebruik ook die krag van aansporing vir aktiewe reaksie. Terwyl die gehoor se aandag gevestig is en hulle opgewonde is, skep 'n radiokompetisie 'n direkte toegangspunt tussen verbruikers en 'n handelsmerk deur middel van 'n betroubare platform.
Hoewel nie alle luisteraars aan die kompetisie deelneem nie, sal hulle ingeskakel bly om die uitslag te hoor - om uit te vind wie wen, of wat die regte antwoord op die vraag of raaisel was.
Terwyl sekere metodes oor die jare verouderd geraak het, het sekeres die toets van die tyd deurstaan. Gewilde kompetisie 'meganika' sluit in: raai wat's die geluid, vind die struikrower, betaal rekeninge, wen 'n droom (voeg 'luukse item' hier - huis, motor, vakansie, troue ens.), minuut om te wen, wanneer jy X hoor, kies 'n nommer, en wen teen tyd. Al hierdie tradisionele radiokompetisies het oor die dekades tallose veranderings ondergaan, maar bly steeds in konsep die uiters gewilde radiokompetisies wat die publiek liefhet, en handelsmerke optimale blootstelling bied.
Deur die jare heen het OFM geleer dat ons gehoor, hoewel bestaande uit verskillende groepe in vier provinsies, die beste reageer as die volgende aspekte in 'n kompetisie teenwoordig is: die musiek wat hulle liefhet, 'n geleentheid om reg te wees, en natuurlik 'n lekker kontantprys. Dus bly 'n musiekvasvra of speletjie altyd 'n wenpromosie.
Die aantal inskrywings wat verwag word, is ook nou verwant aan die gemak waarmee die kompetisie aan deelgeneem kan word, asook die tipe aansporing of prys op die spel. Moenie van 'n teikenmark verwag om deur te veel hoepels te spring vir 'n skamele R100 nie. Voeg eers 'n aantal nulle by… As die kool nie die sous werk is nie, gaan jy nie die vrugte pluk nie.
Afgesien van die 'gons' in die mark en handelsmerkliefde wat kan voortspruit uit 'n radiokompetisie, bied tegnologie nou ook dieper insigte in die teikenmark. Dit is moontlik om die deelnemers akkuraat na te spoor en te peil, met hul toestemming natuurlik, oor hul voorkeure en gedrag wat van onskatbare waarde vir handelsmerke is.
Wanneer 'n aanbieding op die lug gepaard gaan met die insigte wat aanlynplatforms bied, is 'n radiokompetisie, wat ook sy digitale platforms benut, 'n promosie wat beslis die grootste blootstelling oor die kortste tydperk bied.
Al OFM se kompetisies word aangepas om te verseker dat hulle nie net vermaak vir die gehoor bied nie, maar ook die gewenste uitkoms vir die adverteerder bereik. OFM slaan ag daarop dat ons nie net 'n platform bied vir jou volgende wenpromosie nie, maar ook dat ons 'n mediavennoot is wat gerat is om jou onderneming te laat groei.
EINDE

Vir meer inligting, kontak asseblief vir Lindiwe Mtwentula by 051 5050 900, 082 416 1665, of lindiwe@ofm.co.za.