Press Office
Student bags R35 000 with OFM Secret Song
─── 10:36 Wed, 04 Aug 2021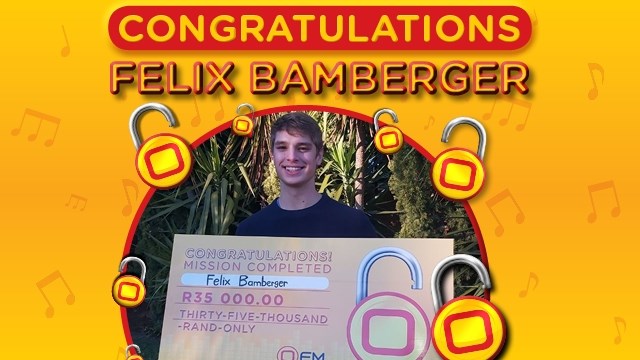 30 July 2021 saw the conclusion of OFM's nerve-racking Secret Song competition. After a month, the mystery song was finally revealed as well as who the lucky listener was to first send in the correct guess to win R35 000 cash.
From 06:00, OFM's Good Morning Breakfast Show started eliminating song choices from the 35 finalists who were selected during the month of July.
To enter, listeners had to send in what they thought the OFM Secret Song was by identifying a short clip played on air. They were aided by ten clues describing the song, which were released throughout the month of July. Once a finalist was selected, based on their choice conforming to one or more clues, their song selection was displayed on OFM's website and was out of contention for other contestants. Finalists were drawn at random, which kept listeners guessing about whether the song had been guessed correctly yet, or not.
Just after 07:00, the Good Morning Breakfast revealed that there were three finalists left who all had identified Paul Simon as the artist.
OFM's camera crew were on hand to capture the moment it was announced that finalist #30, Felix Bamberger from Bloemfontein, was the first person to correctly guess that "Graceland" by Paul Simon was the secret song!
Watch the video here:
Speaking from his living room, the 19-year-old medical student from the University of the Free State, had this to say about how he immediately knew what the song was when he heard the clip, "… I drive around a lot… and it has become one of my favourite songs. When I heard it for the first time, I said to my dad, 'I am sure that is Graceland' and he said, 'Well, then enter'!" Felix added that he would be putting his winnings towards his tuition.
According to Elzette Boucher-Krüger, OFM Content Manager: "It was quite a challenge being one of only two people who knew what the secret song was. This secret had to be closely guarded for more than a month. It was wonderful to see the reaction of OFM's listeners each time a finalist was announced, and more entries came flooding in. Eventually, the computer put our winner in the finalist mix. Then, when we verified his entry, I could not believe how quickly Felix got the answer. The only clue out was 1986. It truly had to be his favourite song. Well done on taking a chance!"
Tim Thabethe, OFM Programme Manager, was on-site to award Bamberger the grand prize: "The OFM Secret Song ended wonderfully. Felix was the first entry to identify the secret song. The track had a fond memory from his travels with his brother around the Kalahari. To the top three finalists, all who entered and everyone who played along, this was one of many delights from OFM to celebrate our 35th Birthday in 2021. Stay tuned, OFM has more to surprise you with this year".
Although there was only one grand prize of R35 000 cash, all finalists were rewarded with limited edition OFM memorabilia in celebration of our 35th birthday year.
ENDS
For more info, please contact Lindiwe Mtwentula on 051 5050 900, 082 416 1665, or lindiwe@ofm.co.za.