Press Office
Family fun at Sunshine Walk
─── 17:53 Fri, 08 Oct 2021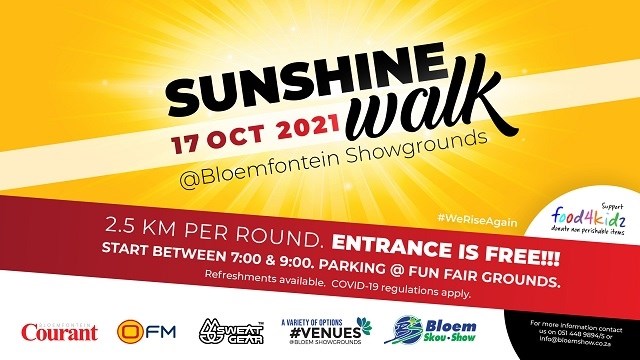 The President has spoken – we're at Level 1! And, October is definitely the most beautiful month in Bloemfontein… what more could you ask for? So pull on your takkies and pull into the Bloem Showgrounds for the Sunshine Walk on 17 October!
Bloem Show, along with OFM and Bloemfontein Courant, wants to get you and your family active again. This free fun family walk is only 2.5 kilometres long (perfect for the little ones) and there will be a competition, food and refreshment stalls, and music points. Plus, Central South Africa's favourite presenters, the OFM team, will be there right alongside you getting active in the fresh Free State air.
The starting time is between 07:00 and 09:00 at the Banquet Hall. Parking is available at the Fun Fair grounds. Donations of non-perishable food will be collected for Food4kidz in lieu of an entrance fee. Strict Covid-19 regulations will apply.
Elmarie Prinsloo, Bloem Show CEO, says they initiated the walk because of "the negativity during Covid and the urge everyone has to get back to normality. This made us realise that it is time to get people together – within the safety of Covid regulations. It will make people feel better about themselves and result in a more positive attitude. The name is based on the popular song 'Walking on sunshine'."
According to Lindiwe Mtwentula, OFM Marketing Manager: "The purpose of the fun walk is to get the community of Bloemfontein outside, active and socialising again. Since the pandemic began, people have been unable to go out and take part in such events. So why not do it for a worthy cause? We urge the community to bring non-perishable food and help us to make a difference in the lives of the children that Food4kidz supports".
Corni Fourie, Mahareng's Business Manager (which owns Courant), says, "It is Courant's aim to positively influence our community by informing and educating them about local news and events, such as the Sunshine Walk."
Food4kidz says they are overjoyed to be part of the Sunshine Walk as it will promote the work they are doing. "This will also be a great opportunity to receive donations and it will assist us in the last term of 2022"
ENDS
For more info, please contact Lindiwe Mtwentula on 051 5050 900, 082 416 1665, or lindiwe@ofm.co.za.
---
Gesinspret by Sunshine Walk
Die President het gepraat – ons is op Vlak 1! En, Oktober is beslis die mooiste maand in Bloemfontein ... wat meer kan jy voor vra? So, trek aan jou tekkies en kies die hasepad na die Bloem Showgrounds vir die Sunshine Walk op 17 Oktober!
Bloem Show, in samewerking met OFM en Bloemfontein Courant, wil jou en jou gesin weer daai litte laat roer. Hierdie gratis gesinsstap is slegs 2,5 kilometer lank (perfek vir die kleintjies) en daar sal 'n kompetisie, kos- en verversingsstalletjies en musiekpunte wees. Boonop sal joi gunsteling Sentraal Suid-Afrika aanbieders, die OFM -span, saam met jou hulle litte roer in die vars Vrystaatse lug.
Die begintyd is tussen 07:00 en 09:00 by die Banquet Hall. Parkeerplek is beskikbaar op die Pretpark-terrein. Donasies van nie-bederfbare kos sal vir Food4kidz ingesamel word in plaas van toegangsgeld. Streng Covid-19 regulasies sal geld.
Elmarie Prinsloo, uitvoerende hoof van Bloem Show, sê hulle het die stap begin "vanweë die negatiwiteit tydens Covid en die drang wat almal het dat dinge moet terugkeer na normaliteit. Dit het ons laat besef dat dit tyd is om mense bymekaar te kry – binne die veiligheid van Covid-regulasies. Dit sal mense beter laat voel en lei tot n meer positiewe houding. Die pretstap se naam is gebaseer op die gewilde liedjie 'Walking on sunshine'. "
Volgens Lindiwe Mtwentula, OFM-bemarkingsbestuurder is die "doel van die pretstap is om die gemeenskap van Bloemfontein weer aktief en in die buitelug te kry. Sedert die pandemie begin het, kon mense nie uitgaan en aan sulke geleenthede deelneem nie. Die pretstap is ook ten bate van 'n goeie doel. Ons doen 'n beroep op die gemeenskap om nie-bederfbare kos saam te bring en ons te help om 'n verskil te maak in die lewens van die kinders wat Food4kidz ondersteun ".
Corni Fourie, sakebestuurder van Mahareng (wat Courant besit), sê: "Dit is Courant se doel om ons gemeenskap positief te beïnvloed deur hulle in te lig en op te voed oor plaaslike nuus en gebeure, soos die Sunshine Walk."
Food4kidz het hulle dankbaarheid uitgespreek om deel te wees van die Sunshine Walk, aangesien dit hulle werksaamhede sal bevorder. "Dit sal ook 'n geleentheid wees om skenkings te ontvang wat ons baie sal help in die laaste kwartaal van 2022."
EINDE
Vir meer besonderhede, tree in verbinding met Lindiwe Mtwentula by 051 5050 900, 082 416 1665, of lindiwe@ofm.co.za.