Press Office
Aspiring photographer awarded life-changing opportunity
─── 10:44 Mon, 24 Jan 2022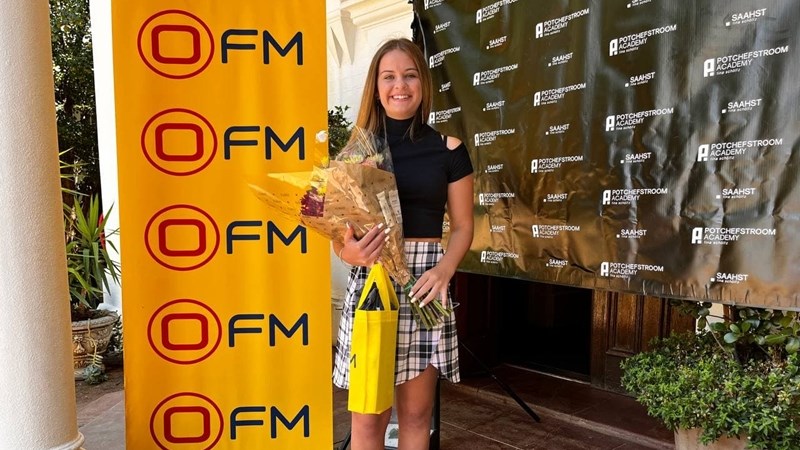 As OFM, the Sound of Your Life and Central South Africa's number one commercial radio station has earmarked 2022 as "Twenty-20-You", January saw the culmination of the first of a series of competitions aimed at improving the lives of listeners.
The #Twenty20You: Invest in your future! competition, hosted in partnership with Potchefstroom Academy and SAAHST, concluded at this prestigious academy campus in Potchefstroom on Saturday 22 January 2022, with the awarding of the grand prize – a year's tuition to study either somatology, cosmetology, hairdressing, interior design, or photography, plus R10 000 cash to help the prospective student kick-start their career.
To enter, prospective hair stylists, beauticians, interior designers and, photographers had to submit a 30-second video online showcasing their skills and motivating why they deserved to win along with supporting documents.
After reviewing all of the creative entries received, the 18-year-old Marianke Rossouw from Bothaville was awarded the grand prize during Potchefstroom Academy and SAAHST's Open Day.
During the handover, OFM presenter Renaldo Schwarp read out the winner's motivation to the crowd and an unsuspecting Marianke present at the event.
"I am a passionate 18-year-old, who would very much like to broaden my knowledge and one day start my own photography business. I not only want to go into one specific field but consider all my options. With the scholarship offered, I can make my dreams come true and pursue my passion for the rest of my life."
Speaking on behalf of Potchefstroom Academy and SAAHST, Wesley Wallace, Head of the Department of Photography, noted that they were quite impressed by Marianke's entry and could see from her portfolio that she has a keen eye.
OFM Content Manager Elzette Boucher Krüger explains that this competition aimed to give budding entrepreneurs the credentials to set them on a path to establish their own business: "After OFM celebrated 35 years of broadcasting in 2021, where the focus was on the radio station, we decided that in 2022 the focus should shift squarely to our listeners. There are so many talented and skilled young people, who just need that little bit of assistance and guidance to become a qualified professional. It was amazing to see how creative and talented Central SA's budding young entrepreneurs are. What a privilege it was getting to know them better on air during the competition, as well. Well done, Marianke. You're a worthy winner!"
Anine Wallace, CEO of Potchefstroom Academy and SAAHST, says: "Not only are we privileged to celebrate our 40th year of quality education but also excited to collaborate with OFM on this special journey to grant one lucky listener the opportunity to take the first step towards their creative and entrepreneurial future."
Potchefstroom Academy, a higher education provider, was established in 1981 by the founder, Tina Scholtz. The Academy has since grown into one of the leading private tertiary institutions of its kind. Potchefstroom Academy and SAAHST are situated in Potchefstroom, a vibrant student-town. The safe, student-friendly environment ensures that students remain engaged in learning while providing them with the opportunity to become involved in sports and social events, as well as meet interesting people and share experiences that will last a lifetime.
For more information about Potchefstroom Academy and SAAHST, visit potchacademy.co.za.
ENDS
For more info, please contact marketing@ofm.co.za.
---
Aspirant-fotograaf met lewensveranderende geleentheid beloon
Omdat OFM, die klank van jou lewe en Sentraal-Suid-Afrika se nommer een kommersiële radiostasie, 2022 as "Twenty-20-You" geoormerk het, het Januarie reeds 'n eerste hoogtepunt in 'n reeks kompetisies, wat daarop gemik is om die lewe van luisteraars te verbeter, opgelewer.
Die #Twenty20You: Invest in your future! kompetisie, wat in vennootskap met Potchefstroom Akademie en SAAHST aangebied is, het op Saterdag, 22 Januarie 2022 by hierdie gesogte akademie se kampus in Potchefstroom ten einde geloop met die toekenning van die groot prys - 'n jaar se onderrig om óf somatologie, skoonheidskunde, haarkapperry, interieurontwerp óf fotografie te studeer, plus R10 000 kontant om die voornemende student te help om hul loopbaan te begin.
Om in te skryf, moes voornemende haarstiliste, skoonheidskundiges, interieurontwerpers en fotograwe 'n 30-sekonde-video aanlyn oplaai wat hul vaardighede ten toon stel, saam met ondersteunende dokumente, en motiveer waarom hulle verdien om te wen.
Ná deeglike oorweging van al die kreatiewe inskrywings wat ontvang is, is die 18-jarige, Marianke Rossouw van Bothaville, tydens Potchefstroom Akademie en SAAHST se Opedag met die groot prys bekroon.
Tydens die oorhandiging het OFM-aanbieder Renaldo Schwarp die wenner se motivering voorgelees aan die skare en 'n niksvermoedende Marianke, teenwoordig by die geleentheid.
"Ek is 'n passievolle 18-jarige, wat baie graag my kennis wil verbreed en eendag my eie fotografie-onderneming wil begin. Ek wil nie net in een spesifieke veld ingaan nie, maar al my opsies oorweeg. Met die beurs wat aangebied word, kan ek my drome waar maak en my passie vir die res van my lewe nastreef. "
Wesley Wallace, hoof van die departement fotografie, het namens Potchefstroom Akademie en SAAHST gepraat en opgemerk dat hulle baie beïndruk was deur Marianke se inskrywing en kon uit haar portefeulje sien dat sy 'n goeie oog het.
OFM-inhoudbestuurder Elzette Boucher Krüger verduidelik dat hierdie kompetisie daarop gemik was om ontluikende entrepreneurs die kwalifikasie te gee om hulle toe te rus om hul eie besigheid te vestig: "Nadat OFM in 2021, 35 jaar in die uitsaaibedryf gevier het, waar die fokus op die radiostasie was, het ons besluit dat die fokus in 2022 vierkantig na ons luisteraars moet verskuif. Daar is soveel talentvolle en vaardige jongmense wat net so bietjie bystand en leiding nodig het om 'n gekwalifiseerde professionele persoon te word. Dit was ongelooflik om te sien hoe kreatief en talentvol Sentraal SA se ontluikende jong entrepreneurs is. Dit was ook 'n groot voorreg om hulle ook tydens die kompetisie beter op die lug te leer ken. Baie geluk, Marianke. Jy's 'n waardige wenner!"
Anine Wallace, HUB van Potchefstroom Akademie en SAAHST, sê: "Ons is nie net bevoorreg om ons 40ste jaar van kwaliteit onderwys te vier nie, maar ook opgewonde om met OFM saam te werk op hierdie spesiale reis om een gelukkige luisteraar die geleentheid te gee om die eerste stap te neem na 'n kreatiewe en entrepreneuriese toekoms."
Potchefstroom Akademie, 'n hoër onderriginstansie, is in 1981 deur Tina Scholtz gestig. Die Akademie het sedertdien gegroei tot een van die voorste private tersiêre instellings van sy soort. Potchefstroom Akademie en SAAHST is geleë in Potchefstroom, 'n lewendige studentedorp. Die veilige, studentvriendelike omgewing verseker dat studente betrokke bly by leer, terwyl hulle die geleentheid gegun word om betrokke te raak by sport en sosiale geleenthede, asook om interessante mense te ontmoet en ervarings te deel wat 'n leeftyd sal hou.
Vir meer inligting oor Potchefstroom Akademie en SAAHST, besoek potchacademy.co.za.
EINDIG
Vir meer inligting, kontak marketing@ofm.co.za.