Rugby
Hartzenberg brothers dream of playing together
─── MORGAN PIEK 07:41 Tue, 17 May 2022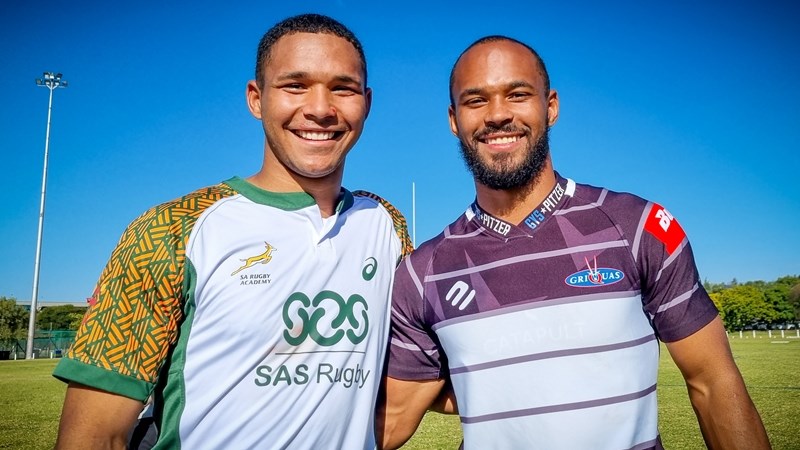 The Griquas and the Junior Springboks went head-to-head in Bloemfontein on Monday in a hit out to afford both teams some much needed time on the park.
The much more experienced and physical Peacock Blues comfortably won the warm-up match at Hoërskool Sentraal 38-21.
For the Griquas winger, Munier Hartzenberg, who will be heading to the Cheetahs later the in the year the game was somewhat of a special occasion as he got to play against his younger brother and UCT Ikeys star, Suleiman Hartzenberg.
While they are both wingers, they weren't direct opponents in the game as the younger sibling played at outside centre, while his order both donned number 14 jersey for the team from Kimberley.
Much of their careers have followed a different path with Munier having been schooled at The Leadership College in Manenberg and played his Varsity Cup rugby for the five-time champions, Maties. On the flipside of the coin, Suleiman was schooled the prestigious Bishops in Rondebosch, while he plays for the rival University, UCT. But, the rugby field is one place where their careers can come together, especially in Central South Africa, where running rugby is a way of life and is tailor made for them.
Munier told OFM Sport that playing against his brother was weird but it's a moment that he will cherish.
"It was something special", said the former Maties speedster.
"I must say that it felt a bit weird sharing the field with my younger brother and especially playing against him.
"I must add that it was very special and it's a moment that I will cherish forever."
The younger of the Hartzenberg brothers in his turn told OFM Sport the dream is to following is Munier's footsteps, but the ultimate goal is to play together in the same team.
"I definitely learnt a lot from this guy and privileged to share that same field as him.
"After games he would always give me tips of where to go and what to do better, but now it was actually in the game that we were analysing each other. It was a totally different situation, but we are privileged to be able to do that.
"The end goal is to share the field with him in the same team and hopefully we will do that in the not-too-distant future."
On Thursday the Toyota Cheetahs will tackle the Junior Boks at the Toyota Stadium. Next week Saturday the Griquas will host the Cheetahs in Kimberley in the Currie Cup in the eagerly anticipated Central derby.
Morgan Piek OFM Sport