Rugby
It's a huge tribute to our fans - Xamlashe
─── MORGAN PIEK 13:21 Fri, 24 Jun 2022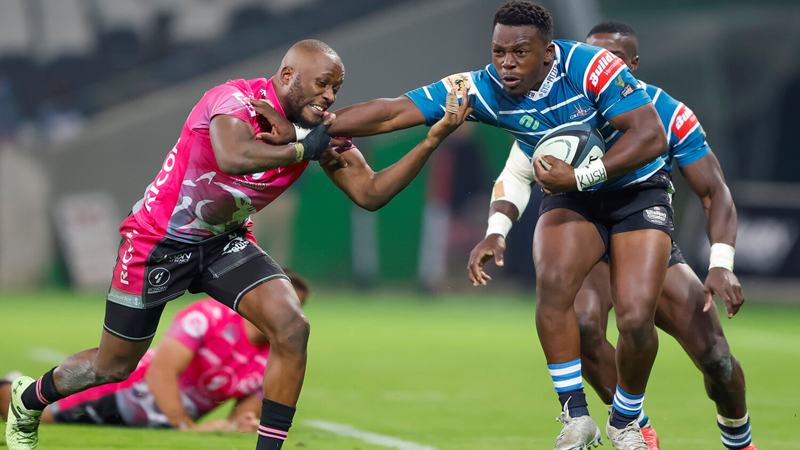 The Griquas will welcome playing in front of the capacity crowd in Kimberley tomorrow when they tackle the Pumas in the 2022 Currie Cup final.
This morning the tickets for the historic final were sold out and it is expected that close to 13 000 supporters will be in attendance.
It is also believed that seven of the 1970 Griquas players will attend the final and they include the captain of that team, "Mannetjies" Roux.
The Griquas captain for the final, Sango Xamlashe, told OFM Sport that it will be unreal to have a capacity crowd.
"It's a great opportunity. I can't ever recall playing in front of a sell-out crowd and I'm sure a lot of the other guys here can also relate.
"When the crowd is at full capacity at home, it's a dream for anybody. If someone had to say that this was how things were going to turn out at the beginning of the season, they would have said it's bonkers.
"But we are here now. The moment and the occasion is slowly starting to present themselves.
"The guys are really showing great excitement. They are looking forward to it. A lot of the guys are seeing this as a once-in-a-lifetime opportunity.
"It's a huge tribute to our fans as well. I think they deserve it. We are really excited to go out and give a performance that Kimberley can remember."
Saturday's big final in Diamond City kicks off at 15:00.
Griquas - 15 George Whitehead, 14 Munier Hartzenberg, 13 Sango Xamlashe (captain), 12 Rynhardt Jonker, 11 Luther Obi, 10 Zander du Plessis, 9 Stefan Ungerer, 8 Siba Qoma, 7 Hanru Sirgel, 6 Werner Gouws, 5 Derik Pretorius, 4 Cameron Lindsay, 3 Janu Botha, 2 Janco Uys, 1 Kudzwai Dude.
Replacements - 16 Simon Westraadt, 17 Eddie Davids, 18 Andries Schutte, 19 Johan Retief, 20 Michael Amiras, 21 Johan Mulder, 22 Fiela Boshoff, 23 Chris Hollis.
Pumas - 15 Devon Williams, 14 Tapiwa Mafura, 13 Sebastian de Klerk, 12 Eddie Fouché, 11 Jade Stighling, 10 Tinus de Beer, 9 Chriswell September, 8 André Fouché, 7 Willie Engelbrecht (captain), 6 Daniel Maartens, 5 Shane Kirkwood, 4 Deon Slabbert, 3 IG Prinsloo, 2 Eduan Swart, 1 Corné Fourie.
Replacements - 16 Llewellyn Classen, 17 Dewald Maritz, 18 Simon Raw, 19 Kwanda Dimaza, 20 Francois Kleynhans, 21 Giovan Snyman, 22 Ali Mgijima, 23 Alwayno Visagie.