Rugby
'It's a good way to see how far we are now since we last played' - Sekekete
─── MORGAN PIEK 08:48 Fri, 17 Nov 2023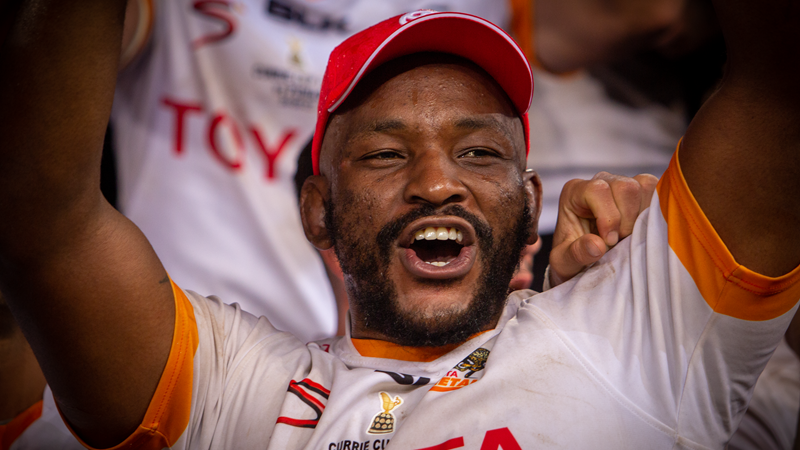 "In Australia, there were a couple of things from our side to fix, so we will be looking to do that and making sure that by the time that we head into the season overseas, that everything will be just the way that we want it to be."
The Toyota Cheetahs are eager to measure their progress when they tackle the Griffons on Friday afternoon in Bloemfontein.
It will be the Cheetahs first of two warm-up games before heading to Italy to kick-off their European Challenge Cup campaign next month.
The Cheetahs did beat the Western Force 3-1 in the Toyota Challenge series recently, however, it will be a totally different kettle of fish in the Challenge Cup.
The Cheetahs captain, Victor Sekekete, told OFM Sport that they have things that they need to improve on.
"It's a good way to see how far we are now since we last played, " said the Currie Cup winning captain.
"In Australia, there were a couple of things from our side to fix, so we will be looking to do that and making sure that by the time that we head into the season overseas, that everything will be just the way that we want it to be."
For the new Cheetahs tighthead prop, Justin Forood, this warm-up game is a big opportunity. Forwood hasn't played for the Cheetahs since joining the team following the Currie Cup earlier in the year. The former Griqua has been injured, and despite traveling with the team to Perth for the two away against the Force, he is yet to enjoy game time.
Forwood told OFM Sport that he is keen and eager to stake his claim at the Cheetahs.
"I've very excited for the game and obviously it will be my first back since my injury," said the big front-rower.
"I'm looking forward to having a good game and hopefully staking my claim here at the Cheetahs. "I'm also looking forward to the upcoming season."
Friday afternoon's contact session at Grey College kicks off at 12:00.
Orange team – 15 Tapiwa Mafura, 14 Cohen Jasper, 13 Evardi Boshoff, 12 Reinhardt Fortuin, 11 Andell Loubser, 10 George Lourens, 9 Ruan Pienaar, 8 Jeandré Rudolph, 7 Friedle Olivier, 6 Gideon van der Merwe, 5 Victor Sekekete, 4 Rynier Bernardo, 3 Justin Forwood, 2 Chucky van der Westhuizen, 1 Alulutho Tshakweni
White team – 15 Litha Nkula, 14 Michael Annies, 13 Andell Loubser, 12 Ali Mgijima, 11 Tapiwa Mafura, 10 Abner van Reenen, 9 Raegan Oranje, 8 Siba Qoma, 7 Oupa Mohoje, 6 Daniel Maartens, 5 Carl Wegner, 4 Mzwanele Zito, 3 Laurence Victor, 2 Marko Janse van Rensburg, 1 Schalk Ferreira.
Morgan Piek OFM Sport