Tennis
Nadal claims record 13th Roland Garros title
─── MORGAN PIEK 08:10 Mon, 12 Oct 2020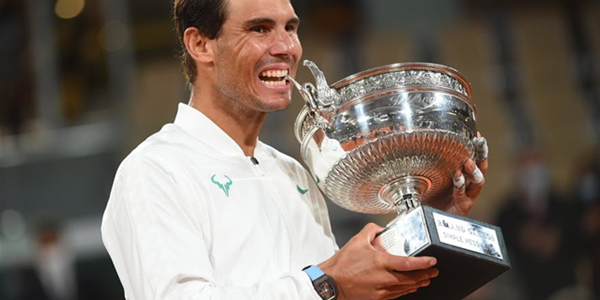 Spain's Rafael Nadal reconfirmed his status as the King of Clay with a clinical performance at Roland Garros to win a record 13th French Open title.
Nadal dominated the match against the world number one, Novak Djokovic, from the first point to claim a 6-0, 6-2, and 7-5 win.
In the process, Nadal equaled the record 20 men's singles Grand Slam titles held by Roger Federer.
After the match, Nadal admitted tying the Grand Slam record of the Swiss great means a lot to him.
"Of course, it is an important day for me, but I'm not stupid, no? It's still a very sad situation worldwide. "If you ask me what my feeling is, of course, I am super happy.
"On the other hand, I am not that happy as usual because the situation is tough for most of the people around the world.
"In terms of these records, of course I care.
"I am a big fan of the history of sport in general. I respect that a lot.
"For me it means a lot to share this number with Roger, no?
"But let's see what's going on when we finish our careers - we keep playing."
Djokovic who was far from his best in the final, conceded that his great rival deserves the title as the King of Clay.
"Today you showed why you are the King of Clay," Djokovic said on court after the final.
"Today I felt it with my own skin."
On Saturday, the 19-year-old Iga Swiatek beat Sofia Kenin 6-4, 6-1 to win the women's singles in what is her first-ever Grand Slam title.
@MorganPiek OFM Sport