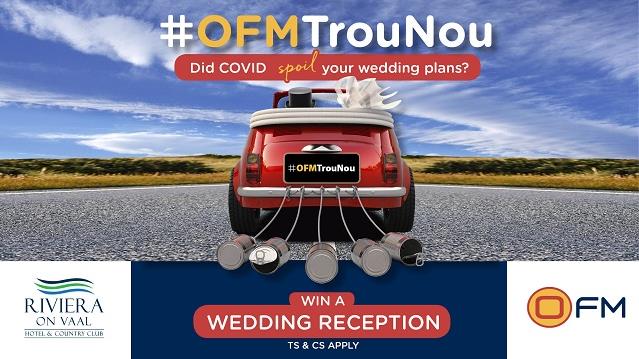 #OFMTrouNou! Valentine's Competition with Riviera on Vaal
Closing date: 3 February 2022
Has lockdown shut down your plans for a wedding reception? Or have you been engaged for what seems like ages with Covid-19 regulations and alert levels shifting your wedding plans time and again?
As part of OFM's mission to turn 2022 into #Twenty20You, we're giving a couple a chance to win a pre-arranged reception for 50 guests at the exquisite Riviera on Vaal Hotel & Country Club in Vereeniging, on Saturday, 12 February 2022 – just ahead of Valentine's Day.
OFM and Riviera on Vaal want to give a couple, who got married without a reception, or who only had very limited guests at their reception due to the outbreak of the Covid-19 pandemic, a chance to 'redo' it. Couples who have not tied the knot yet, due to their wedding dates and venues constantly changing, also stand a chance to be considered for this awesome prize.
We've already arranged the catering, décor, entertainment, MC and more!
The only part of this 'wedding' that remains a mystery is WHO will be celebrating their nuptials? However, there's one catch, the lucky couple will only know on Wednesday, 9 February 2022, whether they've been voted as the winners.
To enter, couples need to upload a creative 30-second video showing why they should be selected as one of the four finalists.
The four best videos will be placed on OFM's Facebook page on 4 February 2022, when the public will have the opportunity to vote for their favourite through using the reaction buttons, until 12:00 on 8 February 2022.
The couple's video with the most votes will be awarded the grand prize on The Good Morning Breakfast, between 06:00 and 09:00, on 9 February 2022.
Included in the prize:
- The venue for 50 guests on 12 February 2022
- All décor, tables, chairs, crockery and cutlery
- A three-course meal for 50 guests
- Accommodation for the bridal couple plus four rooms (for 11 and 12 February 2022)
- The wedding car for photographs to be taken
- A photographer and videographer
- A backup generator
- Printing of menus
- OFM broadcaster as MC
- OFM broadcaster as DJ
- Music equipment
- Digital guest invitation for winning bridal couple
- Menu design
Excluded in the prize:
- Wedding dress and suit
- Minister to conduct the wedding service
- Bouquet
- Hair and makeup (Riviera Spa is available, if needed)
- Inviting guests
- Booking and payment of guest accommodation at Riviera on Vaal
Please note, terms and conditions apply.
Before the four finalists are announced, they will be subject to further screening and be required to sign a disclaimer and provide supporting documentation, if required, which will be communicated to them.
IMPORTANT:
To be eligible for the #TrouNou competition with Riviera on Vaal, couples must upload a 30-second video with your entry below.
Make sure this video is loaded, and if you are struggling, remember you can Telegram it with the keyword WED to 084 222 9497 (data rates apply). Remember to add your name as well.
Thirty seconds may sound very short, but it is also how long a standard radio or TV commercial is.
So, market yourself.
Remember, not only will your family and friends support you when it comes to voting, but you will also need to convince the rest of social media why you should win the grand prize of a wedding reception.
What should the video include?
Your names, where you are from, short story about your relationship, how the lockdown ruined your wedding plans, as well as why you should be chosen. And, most importantly, do something different that will make your video stand out. Remember, we can only select four finalists; your video must attract attention.
So, if you are a couple who over the past two years, had to be content with a wedding with only one hand full of guests, or if your wedding has been postponed numerous times now, take a chance and sign up for Central South Africa's leading Valentine's Radio Reality Competition.
Listen to Shandor Potgieter, host of OFM's Good Morning Breakfast, speak with Daniel Tharrat, general manager of Riviera on Vaal about what the wining couple can expect.
---