Africa News
Palestinians celebrate #Christmas in Bethlehem
─── 10:39 Tue, 25 Dec 2018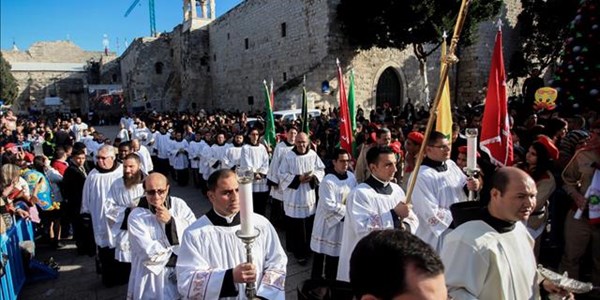 Palestinians have launched Christmas celebrations in Bethlehem, the place of Jesus' birth, in the Israeli-occupied West Bank.
The celebrations kicked off on Christmas Eve on Monday night with scout marches at the Nativity Church in Manger Square, Maan News reported.
Bethlehem welcomed the Latin Patriarch of Palestine, Jordan, and the Holy Land, Archbishop Pierbattista Pizzaballa, who is also the Apostolic Administrator of the Latin Patriarchate in Jerusalem.
Palestinian President Mahmoud Abbas and Palestinian Prime Minister Rami Hamdallah are also expected to arrive in Bethlehem later on Tuesday for Midnight Mass.
Bethlehem mayor Anton Salman had a political message on Israel's continued occupation of the city.
"The message of Palestinians on Christmas is that we are staying in the holy land and will maintain it and resist the occupation until our national goals are achieved, specifically independence and establishing a Palestinian state with Jerusalem as its capital," he said.
Tourists from abroad have also descended on the city.
Tourism minister Rula Maayeh said some three million tourists had visited Palestine in 2018.
African News Agency (ANA)