Agri Hour
Hier is van jou hoof landboustories op OFM
─── ELSABÉ RICHARD 05:30 Fri, 09 Apr 2021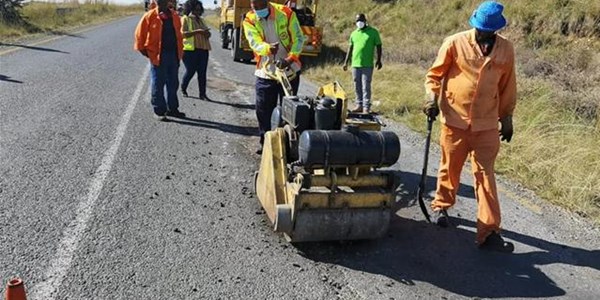 Ons kyk nou na jou week in die landboubedryf. OFM-nuus se Elsabé Richard lig nou die hoofstories op OFM vandeesweek uit...
Sien onderstaande PODCAST
Herstelwerk aan die pad tussen Ficksburg en Fouriesburg – die R26 - in die Vrystaat het begin. Dit volg nadat die Ficksburg-gemeenskap verlede maand teen die haglike toestand van teer- en grondpaaie in die omgewing, betoog het. Provinsiale LUR vir Polisie, Paaie en Vervoer, Sam Mashinini, het vandeesweek 'n ter plaatse ondersoek gedoen om die vordering van die padwerke te monitor. Dié besoek vorm deel van sy beloftes wat hy aan die inwoners 'n paar weke gelede gemaak het. Friedl von Maltitz, 'n boer en streekverteenwoordiger van Vrystaat Landbou, het voorheen aan OFM-nuus gesê paaie is nie begaanbaar vir swaar voertuie nie en boere sal nie graan na silo's kan vervoer nie. Die betoging volg nadat die gemeenskap op 2 Maart 'n brief aan die Vrystaatse Premier, Sisi Ntombela, oorhandig het. Von Maltitz sê daarin het die gemeenskap geëis dat daar dringend met hulle vergader moet word oor die toestand van paaie.
The weather will be the main focus in South Africa's agriculture for both summer and winter crops, and to a lesser extent, horticulture in the near term. Wandile Sihlobo, chief economist at the Agricultural Business Chamber of South Africa, Agbiz, says the summer crop growing areas are approaching a harvest period, with early planted soybeans and sunflower seed already being harvested across the country. He says that it is unclear how much rain will occur, adding they hope that it will mostly be light showers with minimal impact on crops. Over the past few weeks, the weather conditions have generally been favourable across South Africa, although with frequent light rains, which so far have had minimal impact on crops. Furthermore, he says that in terms of winter crops such as wheat, barley, canola and oats, the planting period will start towards the end of April.
TLU SA het 'n skrywe aan die minister van gesondheid, Zweli Mkhize, gerig waarin daar versoek word dat plaaswerkers as prioriteitsgroep oorweeg moet word wat die inenting teen Covid-19 betref. Volgens Maroela Media sê die landbouorganisasie plaaswerkers verrig 'n noodsaaklike diens en is sedert die begin van die inperking as sodanig geklassifiseer. Henry Geldenhuys, president van TLU SA, sê in 'n verklaring die organisasie het egter nog geen antwoord van die minister ontvang nie. Dít terwyl die potensiële blootstelling van werkers aan Covid-19 betreklik hoog is en dit skadelik sal wees indien produksie-eenhede in isolasie geplaas moet word in die geval van 'n verdere Covid-19-uitbreking.
EN
Keneilwe Raphesu, a 23-year-old livestock and crop farmer from the Vaal Triangle, is encouraging people to join the agricultural sector as there is enough space for everyone. She, however, adds that thorough research needs to be done in order to know which challenges may arise in the chosen market. Raphesu explains that one needs to take into consideration things such as the cost and distance you'd need to travel to get your product to the markets. She advises that prospective farmers should consider choosing a profitable market like one that will allow them to sell to auctions, abattoirs and butcheries. She further says that because the agricultural sector provides food for millions of households on a daily basis, there are never enough farmers, hence there is always space for new farmers.
OFM-nuus