Agri Hour
MSc student sets sights on perfecting rhino milk recipe
─── 05:00 Thu, 07 Oct 2021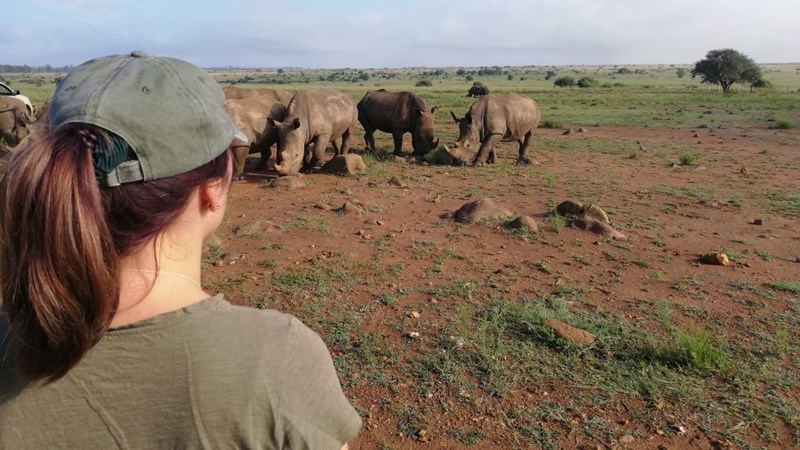 Developing research to replace rhino milk for rhinoceros feeding is in full swing with promises of an economically viable product from the Stellenbosch University in the Western Cape.
MSc student at the University, Dakota Guy, speaks to OFM News' Lee Simmons about her new Rhino Milk Recipe and the new developments in her research.
See PODCAST below
Guy says that it has taken her and her team two years to collect enough samples for the study to actually take place and that the formula milk is to be used to bottle feed abandoned or orphaned rhino calves. The current recipe under development is already proving to be quite valuable, and is being tested at various rhino sanctuaries across the country.
"It's hard to believe, but horses and rhinos are related, as they share an ancient relative and therefore have similar digestive systems," adds Guy.
She says that many times rhino calves in South Africa are fed with a commercial horse milk replacer, or even with a cattle milk replacer, which could easily be found on the market. Her aim, however, is to make the rhino milk replacer as affordable as possible.
She goes on to say that the recipe contains ingredients such as hey powder, vegetable fat, dextrose, sodium caseinate and Biosin where the end result is also a fine white powder, which is mixed with water.
Milking a placid cow, however, is one thing, but a totally different matter when it comes to rhinoceros. There is also the added worry that when one milks a rhino cow, it might cause so much stress that she rejects her calf.
"At such times the calf must be driven away from the mother so that you can work with her. These situations can become dangerous if the calf perhaps decides to return while qualified personnel is at work," says Guy.
Guy adds that with the help of other animal orphanages in South Africa, she hopes to enrol more calves into the trial.
"Ideally, we would like to have 12 – of which half will be fed the replacement foal milk, and the rest the replacement rhino milk. Too many rhino cows with calves by their side have been poached in recent years, while other mothers die from natural causes. Sanctuaries often receive injured, sick or weak calves too, or ones that have been abandoned by their mothers, or were separated from them at some point and cannot be reunited again," asserts Guy.
"Rhino calves cry like babies when they are hungry," Guy mentions. Without their mothers, their chances of survival are slim.
"Rhino orphanages around South Africa play an important role in saving such calves," concludes Guy.
OFM News/Lee Simmons