CentralSA
NC's #AugrabiesFalls a spectacle after rain
─── 14:55 Thu, 14 Jan 2021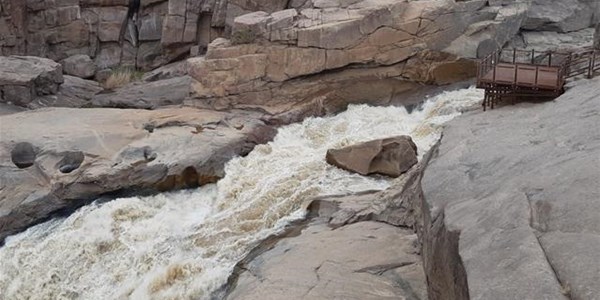 The recent, constantly rising water levels of the Orange River in the Northern Cape has put on a spectacular show at the Augrabies Falls National Park.
According to the latest real-time, unverified data, the water flow rate of the Orange River at Prieska was 790.81 m3/s. on Tuesday.
Moreover, the Gariep, Vanderkloof, Vaal and Bloemhof Dams have recorded an astounding average of 78.32% of their storage capacity as of early this week. SANPARK spokesperson, Genevieve Maasdorp, says they have had to open the belly sluices to allow the high water flow from Bloemhof through the Orange River where it mouths at Alexander Bay.
Maasdorp adds that the increasing water levels effectively interrupts the current drought and that places on the riverside are transforming into green wonderlands. She concludes by saying that the Orange River is the biggest and longest river in South Africa.
OFM News/Shrindré-Lee Simmons