CentralSA
Mangaung employees take to the streets
─── KATLEHO MORAPELA 11:35 Fri, 09 Apr 2021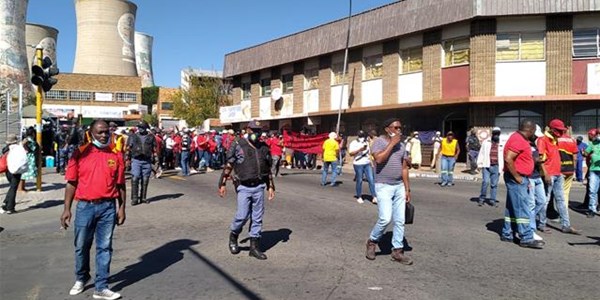 Hundreds of Mangaung Metro Municipality employees affiliated with the South African Municipal Workers Union (Samwu) have taken to the streets of Bloemfontein.
The group of disgruntled employees at the financially troubled municipality demands that the Municipal Manager, Tankiso Mea, vacate office. Mea has been embroiled in a number of maladministration and corruption allegations.
Oppositions parties in the Council and in the Provincial Legislature have for years called for investigations into his office, with the DA stating that he is amongst those to be blamed for the municipal financial rut.

Calls against him gained momentum soon after the Metro got placed under administration in December 2019.

OFM News at the beginning of this year reported on how the DA called for investigations against Mea, highlighting that the Metro is still failing to deliver services and that residents are still subjected to poor water and electricity supply.

The party's chairperson in Mangaung, David Masoeu, together with caucus leader Hardie Viviers, said the municipality was on a verge of collapse.

Whilst a formal investigation into the conduct of Mea has been instituted, Samwu-affiliated employees demand that he be placed under suspension pending the outcome of the investigations.
OFM News