CentralSA
Potch old boys gift retired groundsman a truck
─── OLEBOGENG MOTSE 07:16 Sun, 11 Apr 2021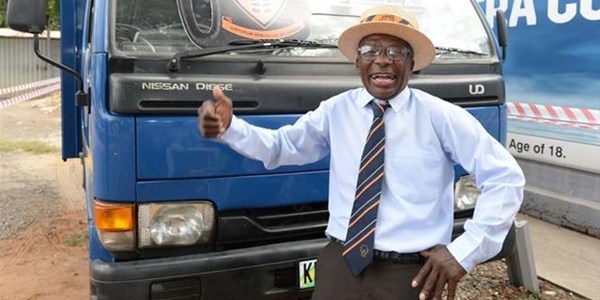 A group of former pupils from the Potchefstroom High School for boys have, over the course of 2020 and early 2021, collaborated to purchase a truck for one of the school's longest serving employees.
Solly Mokoena retired from his duties as groundsman, driver and messenger among other duties at the school in 2015, to grow his own produce as a subsistence farmer outside Rustenburg.
For his 46-years of service at the school, Mokoena received a small farewell function with a cake and certificate to boot.
This gesture however, did not sit well with the school's old boys, who then decided to band together to get 'Oom Solly', as he was affectionately known, a more fitting gift for all the lives he touched during his time at Potchefstroom Boys High.
Old boy, Jerry Motsisi, was chief among those leading the cause, going as far as engaging Mokoena to find out what it was that he really wanted as a subsistence farmer.
Initially the group toyed with gifting 'Oom Solly' with food packs, but they ended up finding out that he really wanted a bakkie and thus the fundraising initiative 'Get Oom Solly a Truck' was born. The project idea along with some pictures of Mokoena on his premises were placed on social media and the different old boys began making their donations. One class from the 80s made a large donation which Motsisi did not disclose, but this amount was then matched and doubled by one old boy now residing in Europe.
A third former Potch boy, donated a truck from his company, and the money accumulated was used to service the truck and refurbish it for usage. A fourth individual insured the truck for a year.
Mokoena who started working at the school when he was just 19-years-old was gifted the truck about two weeks ago, following months of gathering funds and fixing the truck. Motsisi says 'Oom Solly' is so grateful for the truck, his grandchildren now enjoy using the truck to go to the shop to buy essentials as opposed to walking there.
Jerry acknowledges the sacrifices that were made by Mokoena to feed his family. He says 'Oom Solly' worked over two hours away from his wife and children for over 40-years. And that is something that he himself as a married man with a son, is now doing. So he admires 'Oom Solly' as a father and a man.
The truck is only the beginning, regarding what the group plans to do for the man who stoked the fire for the boilers at the school.
OFM News