CentralSA
N1 to Winburg closed following protests
─── 10:16 Mon, 19 Apr 2021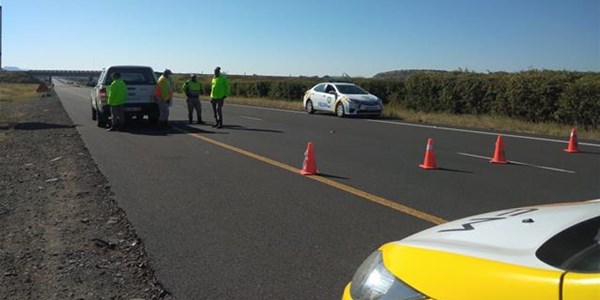 The N1 between Bloemfontein and Winburg in the Free State remains closed as a result of violent protests in the Winburg area.
Scores of traffic officials are currently re-routing motorists driving along the national road, the N1. This after several official warnings from law enforcement agencies, including the police.
Irate residents in the Winburg area embarked on protests last week over a lack of quality and basic service delivery in that area. Issues the residents are up in arms over, include the lack of water supply which has allegedly been experienced for years now.
OFM News understands the situation is still volatile at key points in that area where officials are currently stationed to reroute traffic.
The protests at Winburg started on Friday 16 April. OFM News previously reported on the unrest when the N1 and the Makeleketla Road were barricaded with burning tyres, stones, and the branches of the trees in the early morning hours.
The protesters' discontent comes after a decision by the provincial government that an upcoming visit by President Cyril Ramaphosa will no longer be to Winburg. The statement has indicated that the new venue for the presidential visit will be at Botshabelo near Bloemfontein. The protesters intended to utter their grievances during this visit.
OFM News previously reported the reason the venue of the presidential visit has been changed, is allegedly because the community members planned to use the event as a platform to protest.
Residents have since said they won't stop protesting until the venue change has been cancelled. They say they want to talk to the president about the challenges they face daily.
OFM News/Blaine Jones, Kekeletso Mosebetsi and Lucky Nkuyane