CentralSA
Headstart Kids, Volvo Bfn make a difference
─── 09:07 Thu, 17 Jun 2021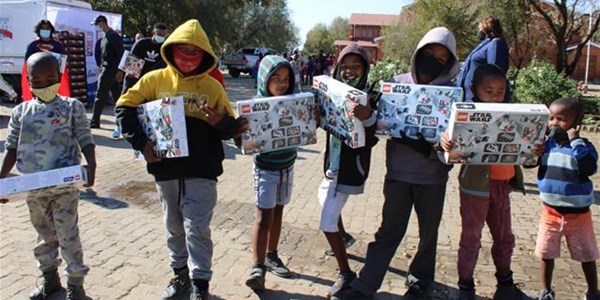 Headstart Kids, a non-profit organisation whose core focus is overturning malnourishment in the first five years in early childhood development platforms, decided to launch a week-long Youth Week Activation Programme.
OFM News previously reported on Headstart Kids' Youth Week Activation Programme, which is aimed at assisting the future youth of the country to thrive through their wellness programme and learning through play. Other stakeholders include Volvo Bloemfontein, where Sales Manager Anso Vorster tells OFM News that the company decided to gift transport to the HSK programme as it is a privilege to give back to the community through delivering bread and boxes of Lego.
"Well, Volvo is all about family, it's about safety and at the end of the day what we are doing is all about the safety of the kids. So many of these kids don't know where their bread or food will come from, so for me, it's an amazing privilege to be here and to get Volvo involved with kids like this, we're a family and we'd like to be part of this family as well," Vorster says.
Headstart Kids founder, Lily Geerds, says the purpose of youth week is to see where they can go the extra mile for upcoming youth, in order to ensure and support them in a way that can create a future generation of young people that can rise and be leaders.
"Headstart Kids' core focus is to work with children in the first five years in order to overturn malnourishment that sits hand in hand with inefficiency, which impacts stunting of the brain, hearing, and eyesight," Geerds says.
On 16 June 2021, Headstart Kids and involved stakeholders visited the Universitas Academic Hospital, Mosamaria center, Logan K Foundation, and Baby House & TC Kids in Heidedal. The visit was part of handing over bread and Lego toys to children and to cheer them up. The programme is set to continue on Thursday.
OFM News/Blaine Jones