CentralSA
Third political activist from Upington 26 dies in less than two years
─── OLEBOGENG MOTSE 12:10 Wed, 15 Sep 2021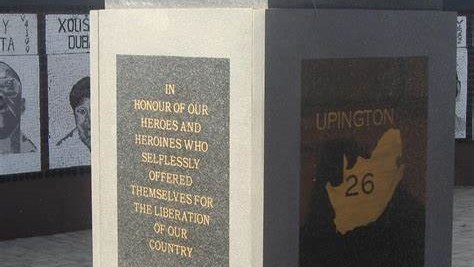 Yet another accused in the Upington 26 case which took place in 1986 has died within the past two years.
The Northern Cape Department of Sports, Arts and Culture has announced that the 55-year-old Sarel Jacobs is the latest Upington 26 trialist who has passed on. The exact details surrounding his death are not clear at this stage and the department is yet to make an announcement on the burial and/or memorial plans.
Jacobs, whose death comes shortly after he celebrated his 55th birthday, is the third Upington 26 trialist to die since Albert Pepile Tywili passed on in late 2019. David Lekanyana died in late August 2021. Whilst Tywili is reported by Ground Up to have died impoverished, it is not said under which circumstances Jacobs was living at the time of his death. The department says he spent most of his time on community projects, organising children from the community in cleaning projects undertaken in collaboration with the Provincial Department of Nature Conservation and Environmental Affairs.
Tywili, Lekanyana and Jacobs formed part of 26 people charged with playing varying roles in the murder of municipal policeman Lucas 'Jetta' Sethwala in Upington on 13 November 1985 by the apartheid state. All but one were convicted of murder on the basis of common purpose, and 14 were sentenced to death. The 26th accused was charged with attempted murder. In 1991, the death sentences were overturned on appeal and most were given prison terms instead.
The department has expressed shock at the death of Jacobs who was one of the remaining 13 trialists. They say "Jacobs was born on 30 August 1966 and went to Oranje Oewer Primary School in Progress where he concluded his Standard 5. He began his working life as a contractor at a local blasting construction company in Paballelo. Like many young people in the area, he was a member of the Paballelo Youth Organisation". He reportedly leaves behind his wife and children.
OFM News