CentralSA
Cogta speaks on #MangaungCopChaos allegations
─── 07:08 Fri, 08 Oct 2021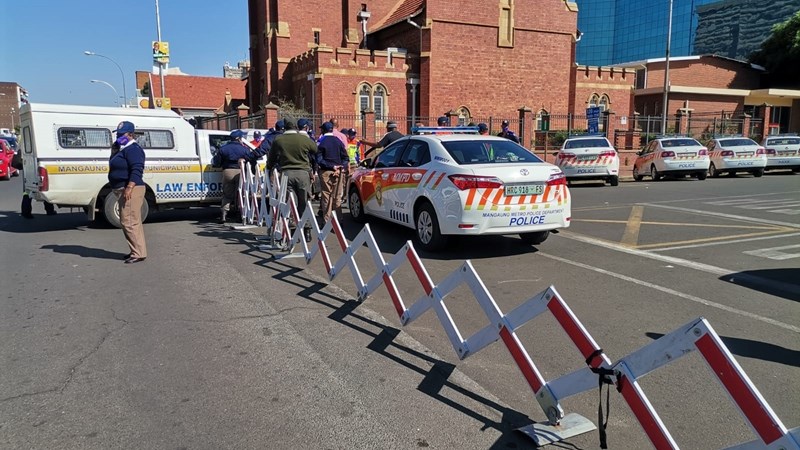 Some of the newly, unofficially appointed Mangaung Metro police officials in the Free State have allegedly been appointed as law enforcers while having criminal records.
Speaking to OFM News, the provincial Head of the Department of Cooperative Governance and Traditional Affairs, Mokete Duma, explains that the gravity of an offense is, inter alia, what determines whether or not an individual may or may not form part of law enforcement.
Duma further adds that citizens who have serious criminal records will not find space in the Metro Police of Mangaung.
However, earlier reports indicate that the Mangaung Municipal Manager, Sello More, refuted allegations pertaining to officials being law enforcers with criminal records.
He said "the recruitment process of the metro was apparently taken by the commissioner and the head of Human Resources, while the municipality has its own city manager who may be in acting capacity but remember that [even though] he is just in acting capacity, he has full powers to perform his function."
Duma goes on to say that they are currently occupied with investigating whether the commissioner had the authority to issue appointment letters to the Metro police.
"In this instance, I think they treated the Metro as an entity and not as a component within the municipality because its manager and the commissioner report directly to the city manager, which is what has misdirected the flow of information, and that is what we think may have actually caused the confusion. Our understanding is that that matter should be corrected because even the unions have raised quite a number of concerns," says Duma.
Duma asserts that they, too, were perplexed by the behaviour of the recruited Mangaung Metro police who cordoned off all entry to the Bram Fischer Building earlier this week. He says that confidence in law enforcement will start wavering because of their own unwelcoming behaviour.
He ends off by saying that the reason for the suspension of the official launch of the Metro police was so that issues that have been raised can be addressed as unions and other stakeholders have raised a number of concerns.
OFM News/Lee Simmons