CentralSA
#BreakingNews: Pelonomi workers down tools - VIDEO
─── LUCKY NKUYANE 15:02 Wed, 08 Dec 2021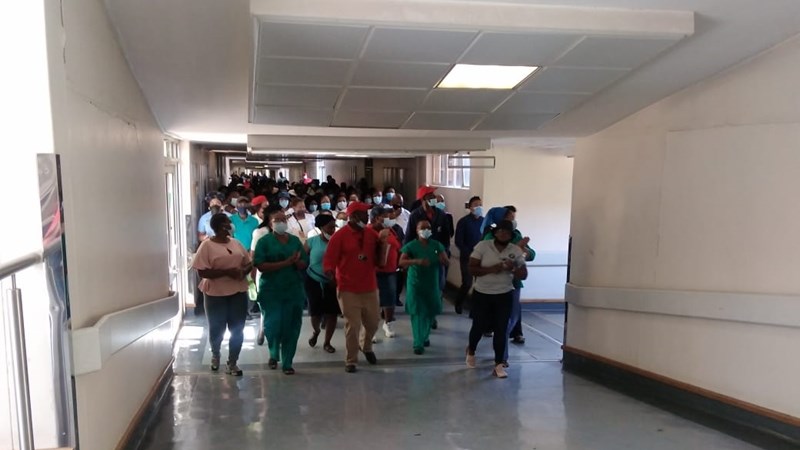 Scores of irate Bloemfontein-based, Pelonomi healthcare workers, including doctors and nurses, have on Wednesday downed tools, protesting against the management allegedly being stubborn.
Workers are accusing the provincial management of flaunting the health care and safety protocols which they claim pose a significant threat to the workers' lives. A large group of them just gathered inside the hospital to demonstrate their anger and frustration with what they describe as a failed system when it comes to addressing their grievances the past few years. The union's Mangaung Branch Secretary, Thabo Nkomo, tells OFM News that workers are hellbent and wishes to stop at nothing until their demands are heard and addressed by management.
OFM News previously reported that the Free State Health Department confirmed that scores of healthcare workers have tested positive for Covid-19.
READ MORE: #BreakingNews: FS health workers test positive for #Covid19
"Since 2014 we have been hammering on this issue of health and safety, and even if it's not raining, our cleaners are cleaning water from pipes that are leaking, the potholes are all around the hospital. Since our members were appointed as cleaners they were not even provided with proper regalia, which includes safety boots or gumboots if the water is all over the hospital," he adds.
Nkomo says the workers want the National Health Minister, Joe Phaahla, to promptly respond and address their issues.
Nkomo adds that most Pelonomi wards have the insufficient running of water and this poses a risk to patients and nurses, especially during the Covid-19 pandemic which has so far claimed the lives of thousands of Free State residents.
READ MORE: Pelonomi attack management to address staff's safety concerns following attempted rape
OFM News in 2019 reported that staff in Bloemfontein urged management to prioritise their safety following the attempted rape of a young doctor at the facility just before midnight on Tuesday 6 June 2019.
OFM News