CentralSA
FS Education tables R17 billion budget
─── LUCKY NKUYANE 15:46 Tue, 05 Apr 2022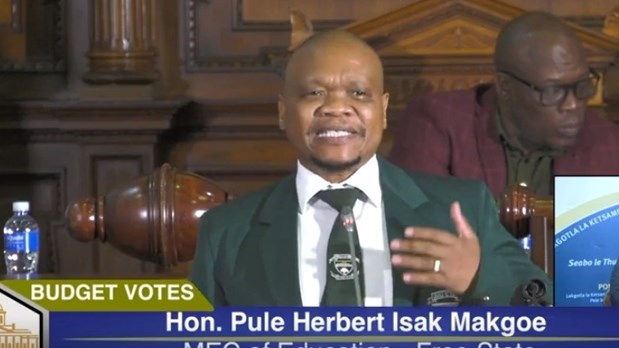 The Free State MEC for Education has tabled the departmental budget allocation of over R17 billion for the current financial year of 2022/23.
MEC Tate Makgoe announced that his department has for the current financial year set aside over R3 million for the training of Grade R Practitioners who are at the Early Childhood Development Site. During the tabling of his budget speech on Tuesday at the Free State Legislature's sitting, MEC Makgoe said that his department will convert the Lourierpark Intermediate School in Bloemfontein into a School for Autism.
MEC Makgoe adds that in the current financial year, R360 million has been set aside to provide schools with additional facilities such as ablution facilities, grade R classes, nutrition centres, and laboratories.
"The power to reboot education lies within all of us. Our successes are dependent on all departmental officials, teachers, trade unions, learners, parents, SGBs, faith-based organisations, business and community members committing to the 'Code for Quality Education'. The recent incidents of bullying, racism, violence and other antisocial behaviour in our schools do not only undermine the fundamental values and principles of the Constitution and efforts made towards social cohesion and nation-building but also destabilise the very essence of the quality learning process," he said.
Last month, the department launched the Anti-bullying and Anti-Racism Campaign in schools.
Also read: Free State Education launches anti-bullying campaign
In March this year, the Congress of South African Students (Cosas) in the Free State Province brought Hoërskool Wessel Maree in Odendaalsrus to a standstill by picketing. The picketing was a follow-up of an incident that included a video that went viral showing a teacher violently pushing a learner off his feet.
Also read: FS school brought to a standstill after incident
Makgoe tabled his budget whilst wearing the Lekgulo Secondary School uniform.
Makgoe further added that the school in Matebeleng Village, Qwaqwa, obtained an impressive 100% pass rate and 74.1% Bachelor's Passes. With regards to Mathematics, the school achieved a 92.4% pass rate.
"We are indeed proud of not only Lekgulo Secondary School but the entire Grade 12 Class of 2021," he said.
The Free State achieved the top spot in the National Senior Certificate (NSC) matric exam results for three years running.