General
Bloemin' Good Week - Engo
─── 15:20 Mon, 19 Jul 2021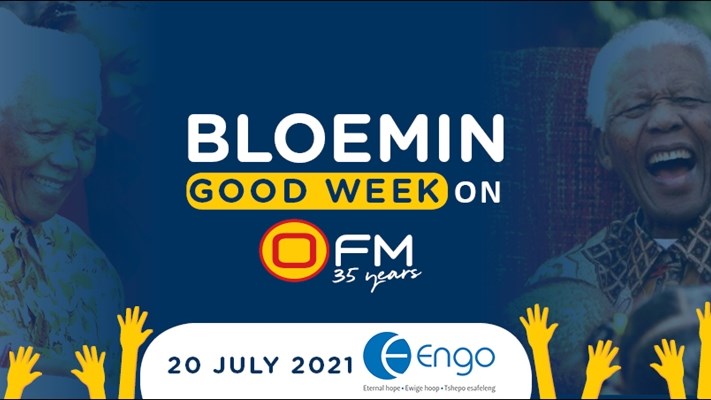 In July, South Africa celebrates former President Nelson Mandela's birthday. 18 July has been declared Nelson Mandela International Day, but as South Africans, we embrace the chance to celebrate Nelson Mandela's life for the whole of July.
From 19 July 2021 to 23 July, OFM will celebrate the caring people who work with those who need it most. Tune in to hear all about the great work Child Welfare Bloemfontein and Childline Free State, the Bloemfontein SPCA, Help-U Foundation, Lettie Fouché School, and Engo Free State are doing.
Engo Free State
Engo is a non-profit and non-governmental welfare organisation operating primarily in the Free State and providing care and counselling to children, families, the elderly, the disabled and patients in need. Engo also has a special training division that offers vocational training to the unemployed and those with disabilities, to enable them to enter the labour market. Engo does incredible work in communities across all races, cultures and ages. Almost 200 000 lives were touched by Engo during 2019/20.
Engo operates according to specific core values. These values are courage, excellence, honesty, integrity, care and empathy. They create hope and strive to make a difference in the lives of people served by Engo.
Engo consist of seven sub-programmes, delivering services to different sectors of the community:
The main goal of this programme is to give much-needed social assistance to children and families. All actions are focused on the protecting and safe-guarding of children and families. There are ten Family Care offices in the Free State, while social services are rendered to communities in 17 towns.
The adoption programme aims to act in the best interest of adoptable babies and children. The end goal is to find a home and family for adoptable children.
Engo Child and Youth Care
This programme provides protection and care for children who were removed by the Children's Court from their parental homes and found to be in need of care. The service is multi-racial and serves children of both genders and all ages.
This programme strives to provide affordable services for the elderly to enhance their quality of life. They fight for the rights of the elderly, to prevent abuse and neglect by empowering them with knowledge and skills.
Hospital Care focuses on visiting and ministering the Word of God to patients and their families, to bring hope and encouragement.
Engo Care for Persons with Disabilities
Persons with disabilities often feel excluded from the community. These centres provide them with a purpose in life, and the feeling of belonging and being accepted by a group of like-minded people.
Engo Negemadi Training Centre
Negemadi is a fully accredited training institution, mainly focusing on the training of social workers, social auxiliary workers and auxiliary healthcare workers. The aim is to provide affordable education to learners and empower them to enter the labour market.
For more information, visit engo.co.za