Mid-Morning Magic
Be your best with MNI
─── 08:06 Thu, 29 Apr 2021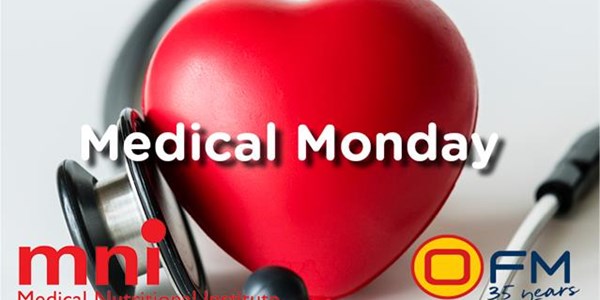 Over the last 12 weeks, we've gotten to know about the importance of the relationship between health and lifestyle with Medical Mondays with MNI on Mid-Morning Magic.
Listen to the range of topics in the podcast series below, to find out how you can improve your health with MNI's range of products.
The Medical Nutritional Institute specialises in the prevention and management of lifestyle related disease. They do this by developing new non-prescription pharmaceutical products using phytochemical (plant based) ingredients that are safe and effective and are trusted by the medical fraternity, and delivering various healthcare, training and CPD services.
All products are manufactured to the specifications of local and international medicine regulatory boards, with specific focus on GMP (Good Manufacturing Practice) and ethical conduct.
MNI was established in 2002 by Mariaan du Plessis, a pharmacist, and Dr Conrad Smith with the aim to form a link between orthodox and complimentary medication. While the idea to shift the focus of medical treatment from cure and more towards disease prevention is neither new nor idealistic, it is rarely achieved. Ideally, in order to achieve success in the field of disease prevention, patients would have to become better informed, more self-reliant and motivated, rather than depending on doctors for pharmaceutical prescriptions alone.
Focussed on this concept, the Medical Nutritional Institute has grown into a diverse healthcare organisation that has received 5 business awards recognising its ground-breaking research and development within the pharmaceutical industry. This includes being a finalist in two categories of the National Business Awards, as well as winning the Innovator of the Year award in the Entrepreneur of the Year contest in 2013.
---
DISCLAIMER: This content is not intended to be a substitute for professional medical advice, diagnosis or treatment. Always seek the advice of your physician or other qualified health provider with any questions you may have regarding a medical condition.
---