National
Maimane gives Ntombela solutions for FS Eskom bill crisis
─── PULANE CHOANE 18:02 Thu, 21 Feb 2019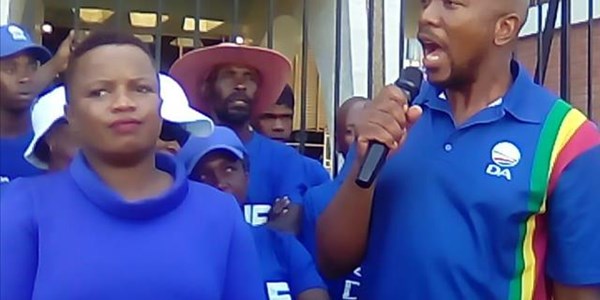 The leader of the Democratic Alliance (DA), Mmusi Maimane, has called on the Premier of the Free State, Sisi Ntombela, to consider three solutions his party made in a memorandum to help the province better manage its R4 billion debt to Eskom.
The solutions he offered to Ntomela include the consideration of alternative, cheaper energy sources, the installation of smart meters that will allow the timeous collection of payments from municipalities to Eskom as well as taking urgent action with managers in these municipalities that are not paying their Eskom bills.
Speaking outside Ntombela's office in Bbloemfontein, Maimane said these solutions were the province's only hope of tackling its R4 billion bill to Eskom, which stems from the Matjhabeng, Maluti-A-Phofung and Ngwathe municipalities, who are the utility's biggest defaulters. Maimane also believes that a public campaign against these alleged non-paying municipalities may also be a good way to collect these monies. "I'm here to say they must name and shame these municipalities so that we know who they are and they must go and recoup that money. This may not be popular. Eskom is holding a knife to our economy and we must remove the risk of Eskom destroying us," he said.
Maimane's comments follow after Finance Minister, Tito Mboweni, announced in his maiden budget speech on Tuesday earlier this week that the power utility would receive R69 billion over the next three years in an effort to stabilise the highly indebted utility. However, Maimane said this was not how it should be done and that rather, the money owed to the utility must be recovered from its defaulters. In his speech yesterday, Maimane said the provincial government should also consider using alternative energy sources such as solar so that citizens have relief from their energy bills.
Accompanied by the party's Shadow Minister of Communications, Phumzile van Damme, Maimane handed over the party's memorandum of demands to the provincial government's Kopung Ralikontsane and Oupa Khoabane. The two officials accepted the memorandum with Khoabane telling him that the provincial Cooperative Governance and Traditional Affairs department was already addressing some of the issues he raised in municipalities in the province.
OFM News