News Talk
Ilse Cooks the Books: Crispy Pork Belly
─── 10:06 Fri, 24 Jul 2020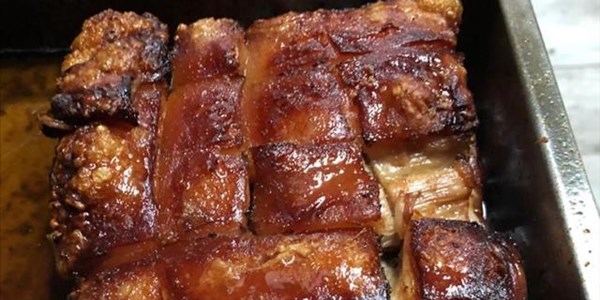 I've been a chicken-pescatarian (as one friend called it!) for a very long time. It's not even a real thing. It's a vegetarian that also eats fish, seafood and chicken. Thus, not really a vegetarian at all.
Anyway, I've recently started adding game meats to my diet. It started when we began hunting our own game and making droëwors and chilli bites. My reasoning was that I knew what kind of life the animal had (blissful with lots of space to roam and lovely extra lucern during the dry winter months). More importantly, I know how they died: a quick bullet from a very experienced hunter. They were dead before they hit the ground.
This prompted me to rethink my entire diet. If there is one thing this Covid-19 pandemic has taught me, it's that life is short and unpredictable. Do I have to label my diet or dietary preferences? If I knew how the animal lived (well) and how it died (quickly and humanely) shouldn't that be enough? I'm still pondering these questions, but I did have a taste of this pork belly. It was heavenly.
CRISPY PORK BELLY (CONFESSIONS OF A HUNGRY WOMAN)
2 kg pork belly
2 tablespoons Maldon sea salt
Olive oil
CARAMEL VINEGAR
½ cup (125 ml) brown sugar
? cup (80 ml) white balsamic or red wine vinegar
3 star anise
1 stick cinnamon
½ red chilli, deseeded and chopped
1 cup (250 ml) good-quality chicken stock
Juice of an orange
Peel of an orange, cut into wide strips
Sea salt and freshly ground black pepper
Score the skin of the pork belly, rub the salt into it and leave for 30 minutes. Dab dry with a paper towel. Preheat the oven to 220?C.
Lightly drizzle a non-stick roasting pan with olive oil and place the pork belly, skin side down, into the pan. Roast for 30 minutes, then reduce the heat to 190?C and roast for 1½ hours. Carefully turn the belly and roast for 20 minutes or until the skin is crisp and brown. Remove from the oven, cover with foil and allow to rest for 15 minutes.
To make the caramel vinegar, cook the sugar, vinegar, star anise, cinnamon and chilli in a small saucepan over medium heat, stirring continuously until the sugar has dissolved and the mixture has a syrupy consistency. Add the chicken stock, juice and peel. Reduce the heat and simmer until the mixture is reduced and is syrupy enough to coat the back of a spoon (10 – 12 minutes). Strain to discard the star anise, cinnamon stick and orange peel, season with sea salt and black pepper and drizzle over the pork belly. Serve with lightly steamed Asian greens, or spinach and steamed rice.
Follow me on Twitter (ilse123) or on Facebook (https://web.facebook.com/IlseCooksTheBooks/) to chat about food and more!
ooOoo