News Talk
Ilse Cooks the Books: Shakshouka
─── 14:18 Thu, 30 Jul 2020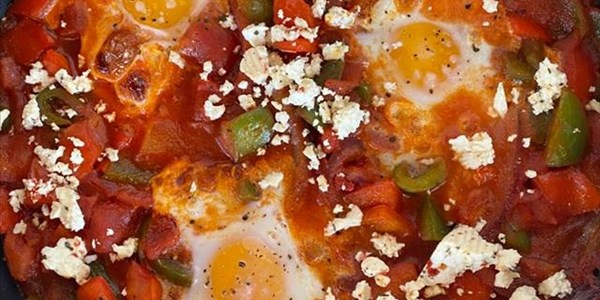 I have never met an egg I didn't like. Fried, poached, scrambled, in an omelette, hard-boiled, devilled or not, eggs make me happy (although I would give the popular Chinese dish 100-year eggs a miss).
If you have eggs in your kitchen, you can make a meal – one that is full of protein and nutrient-dense.
I love cooking up something special for breakfast on Sunday mornings. During the week, my husband's breakfast mostly consist of a few rusks dunked in coffee, and on Saturdays he is usually up early to do some work on the farm.
Sundays, however, are for taking things down a notch. It's a day for rest and relaxation, afternoon naps and watching the world go by. It's also a day for something tasty for breakfast, like this shakshouka dish from my favourite Aussie, Bill Granger. He served his shakshouka with toasted flatbreads. All I can manage on a Sunday morning is toasted cheese rolls from the shop.
SHAKSHOUKA (BILL'S BASICS BY BILL GRANGER)
Serves 2
1 tablespoon (15 ml) of olive oil
1 onion, sliced
2 bell peppers (green, yellow or red) chopped
1 teaspoon (5 ml) paprika
A pinch of dried chilli flakes
4 ripe tomatoes, chopped (I used a tin of chopped tomatoes – it's a lazy Sunday after all!)
2-4 eggs
Heat the oil in a frying pan, add the onion and peppers and cook until softened. Stir in die paprika and chilli flakes and cook for 5 minutes. Add the tomatoes and cook for another 2 minutes (more if you use tinned tomatoes, I would say at least a good 10-12 minute, because you want to cook out the "tinned" taste). Season with sea salt and black pepper.
With your wooden spoon, make two (or three or four, depending on how many eggs you are using) in the mixture. Crack an egg into each one and cook to your liking (you might want to put the pan under the grill for a few minutes to cook the whites properly). Sprinkle with a little paprika just before serving. I sprinkled a bit of feta cheese over mine, because quite frankly, I love cheese just as much as I like eggs!
Follow me on Twitter (ilse123) or on Facebook (https://web.facebook.com/IlseCooksTheBooks/) to chat about food and more!
ooOoo