Other News
Louzanne arrives back in Bloem on Thursday
─── MORGAN PIEK 09:00 Mon, 06 Sep 2021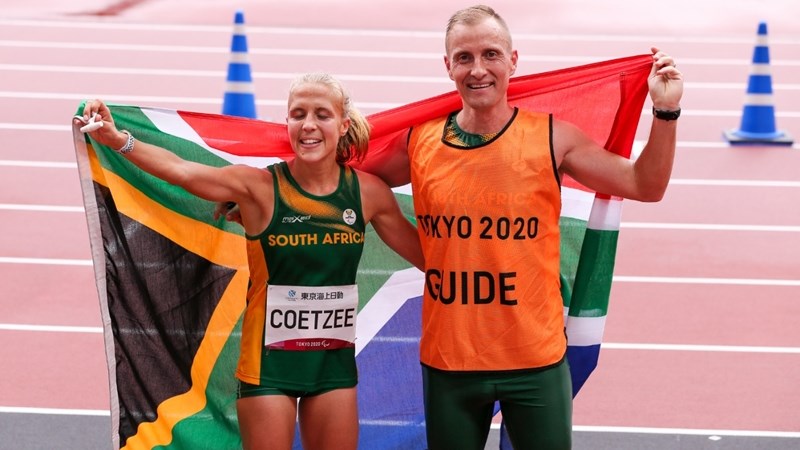 Bloemfontein's Louzanne Coetzee was the South African flagbearer during the closing ceremony of the Paralympic Games in Tokyo, Japan on Sunday.
Earlier in the day, Coetzee won her second medal of the Paralympics when she took the bronze in the T12 marathon, along with her guide, Claus Kempen.
This was also the last medal on offer at the Paralympics and it took South Africa's tally up to seven for the championships.
Her time of 3:11.13 is a world record in her class and in achieving the feat she shaved a staggering 1 minute 42 seconds of the previous benchmark. She previously also held the T11 5000m world record before it was broken by Mary Waithera Njoroge in 2019.
Earlier in the week, Coetzee, won the silver medal in the T11 1500m with Estean Badenhorst, who what was her first-ever medal in a major competition.
Coetzee says she can't wait to share her success with her loved ones.
"I'm still very overwhelmed with all the support and messages from South Africa.
"The countries love and support really means a lot to me and I think for me that is one biggest honours of being here. It's just honouring our country and the people back home. They really carry us over here.
"Yesterday's race with Claus, he was such an expert guide and an amazing marathon partner. I couldn't have asked for better. He really carried me through the race, and I really thankful to him as well. It really means so much to me.
"I'm looking forward to going home now and sharing it with friends and family and the people of South Africa."
Coetzee and Kempen will be arriving back in Bloemfontein on Thursday.
@MorganPiek OFM Sport